Projects Index
1972 Suzuki T500J April 14 2012.
All my projects are on open show AS they get built, you get to see everything being done to them as it is being done. I put a LOT of time and work into all bikes I undertake, Considering labour all bikes are probably sold way under real value but thats how it goes and I accept that because the satisfaction gained from rebuilding the bikes overrides any monetary loses that may happen.
If your new to the vintage bike scene and want to undertake a restoration or rebuild the one thing you should remember is these bikes are now ollllld, there will probably be something to do to everything in the long term, this can range from minor adjustments to major rebuilds and even when you have completed your project there is always something more to do, thats just how it is with old bikes, they are a work in progress. Once you accept this you are on your way to a happy life together. So good luck with your projects and remember, restore and ride, not restore and store.
Restoration, sometimes, just sometimes, restoration does not have to mean spending thousands on the glamour aspect. If you look at the dictionary there are many meanings to restoration.
The one that I find describe this bike perfectly is, "restoration - the act of restoring something or someone to a satisfactory state". So from that perspective the job I do on this bike can be called a restoration.
When finished it will be road ready but definately not a show stopper.
Not much I can really say about the bike at this time except it is too far gone to be a glamour restoration, most of the chrome bits are not rechromeable, the rust is too heavy and there will be pitting for sure. The seat base is bad and I will likely just build it up with fibreglass to a usable state, most everything else can be used as is except the usual cables, chain/sprockets etc. The tank is super clean inside, like new in fact and still has 1978 super fuel in it. The tyres are still soft and the walls are not cracked at all.
Look for further updates to this page, the project should not take too long and no restoration will be done, just make it roadworthy again. Another cool ugly.
Click on pics below to enlarge.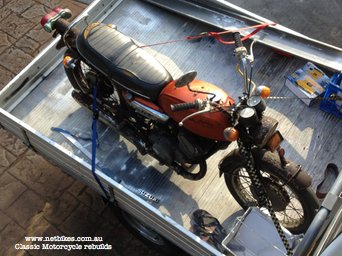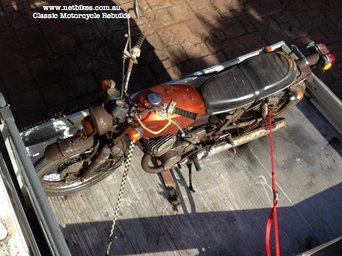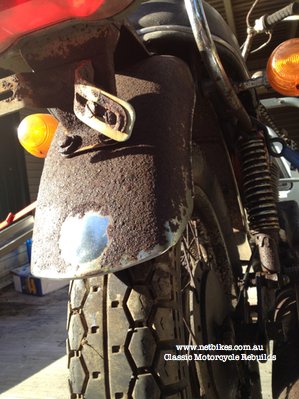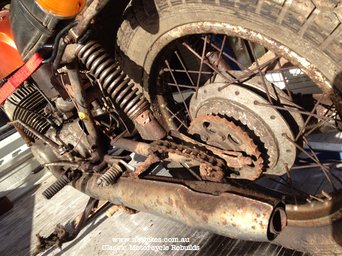 Note 1970 model tank, it still has good 1978 Super fuel in it.
Last registered 1978
This is how I wash the bottom of the motor:-)
Check out the little movie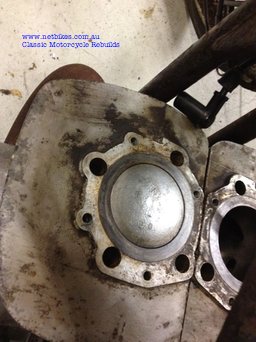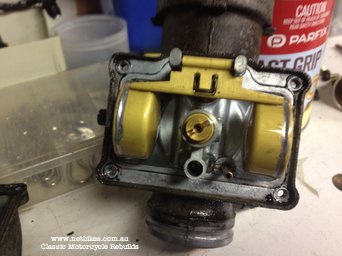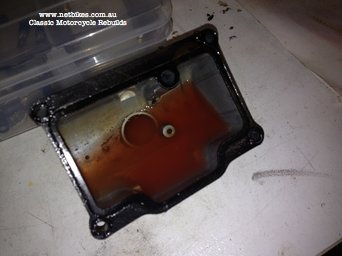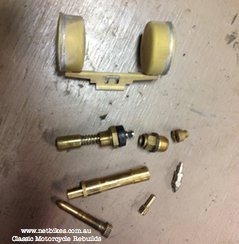 Well the rainbow landed in my garage, removing the heads tonight to check if any water had entered I find brand new pistons fitted, they have never fired a shot, big grin there:-)

Carb pics added April 17. Pictures taken directly after dismantling.
Inside the carbs almost don't need cleaning, that super fuel of old was mighty good stuff. The jets looked not far from new. The super fuel was looking a little cloudy after 34 years inside that bowl. It still smelt like good fuel. After refitting the carbs I cleaned and reset the points, set timing, did a basic wiring check and clean at the battery area, found it was wired incorrectly too, it was never going to start like that, hooked up a remote fuel tap and here we go. Kick kick kick, dam, no spark, remove coils, clean up all contacts, make good earth, try again, first kick it tries to start, second kick it did, fiddle with the carb settings and before you know it it is idling away nicely. Very short movie below of it running, smoke everywhere but that will sort itself out with some new pipe gaskets and a good running. Also one baffle is missing hence the popping sound. I'll take a longer vid in the near future.

Update May 9th 2012. Since April 17 I have been doing lots to the bike, the complete front end was removed, cleaned up best I could, bead blasted the hub and clear coated over, removed as much rust from the rim as I could, found it was not too deep, the rust has sort of grown on itself making it appear worse than it was, you could never re chrome them but they are still solid and usable. Fitted new wheel bearings and fork seals, tidied up the front end wiring, fitted another set of handle bars, cleaned up the switch block and levers etc.

Moving on to the engine again I removed all the alloy covers, bead blasted and clear coated them, I had never intended to polish them but it would not be worth it anyway, there is a bit of water corrosion, refitted them with new alan head screws. I have also been zinc plating some of the threads along the way, once I cleaned the surface rust from them they would only rust again if I left them. I have bought a new chain and front sprocket and have the rear on the way. I also de rusted the header pipes by dripping them in a bath of pool acid and water and then spraying them with Lanetec, which is how I have been dealing with all the rusty parts.

Going to the back of the bike I have pulled it down, again bead blasted the wheel hub and clear coated it, fitted new bearings, de rusted the rear guard and tail light bracket and replaced the J model wide lens with the smaller earlier type, the tank is from a 70 model anyway. I also purchased the cover for that tank too. Not sure if I will paint the tank yet, I don't want to but it has some bad flaking on one side.

A few pictures below of the rear guard in its acid bath and after with Lanetec applied. A couple of the engine alloy cased blasted and clear coated. I will take more pictures after the rear sprocket arrives and the bike is rolling again.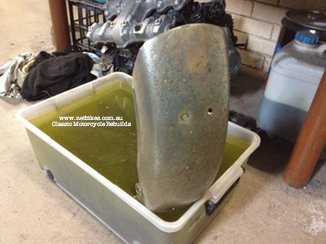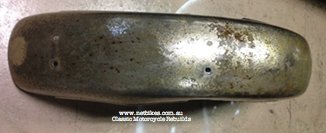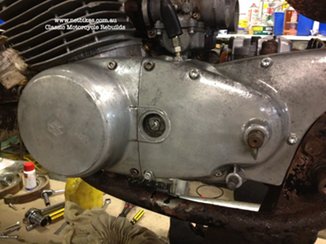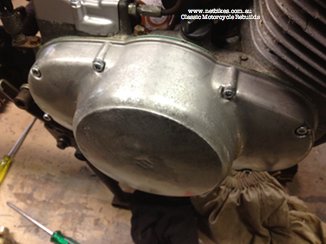 I have to laugh :-) as I put these pics up as the finished job, most would think this is the start pictures but in fact apart from needing a few parts, chain guard, left frame cover and correct instuments, it is fully rideable now.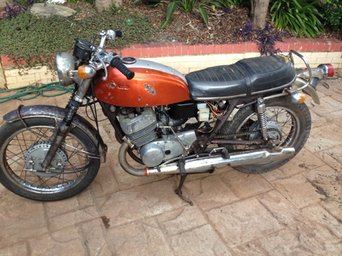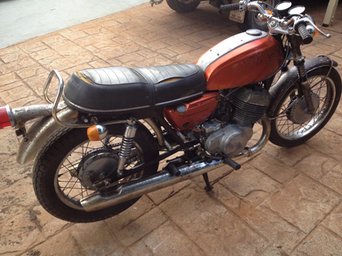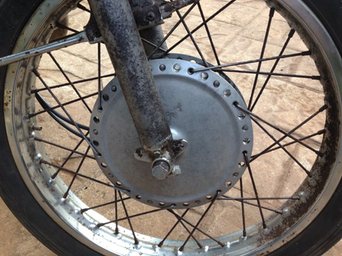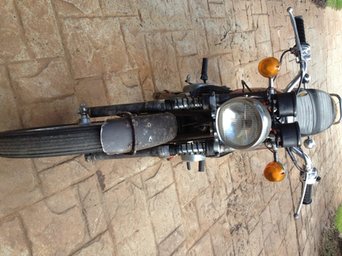 Projects Index