Projects Index
1960 BSA A10 Golden Flash Cafe Racer Build. Gotta love a pre unit. July 23/2010
Well that's the plan at least. I'll be the first to admit that this will likely take me the best part of 12 months to complete, money and time, you know the story.
I purchased the bike in tatty parts from a friend, it was incomplete, and still is, however since purchase I have had another long time friend and brit bike know all guy complete the motor rebuild, bottom end has been rebuilt with new mains and big ends, the head is a rocket gold star, 7.5 GPM high compression pistons, A10 spitfire cam, 1 and 5/32nd mono block carb. Put the push rods in and it's right to go, well sort of, you will note in one of the pics there is a broken fin on the head, well today the head has been removed and sent away to be repaired.
Other work completed is tons of powder coating and I have purchased alloy rims and stainless spokes, also new bushes and spindle for the swing arm. So the fun begins now along with my wallet being on a serious diet and getting very light weight. Seems every time you buy something for an old brit bike you don't get much change out of $500 or so.
So the pictures below show everything I have except cycle threads and other small items. Main items I need to purchase are a complete clutch assembly and a generator. In the end the bike will be semi cafe with rear-sets and modern Triumph Thruxton bars.
Headlight and instruments are also needed but plenty of options there, also front guard, probably a light sport alloy one.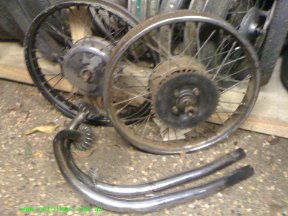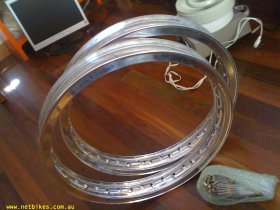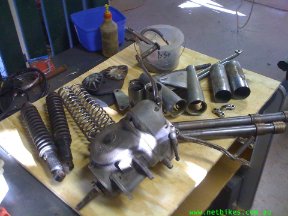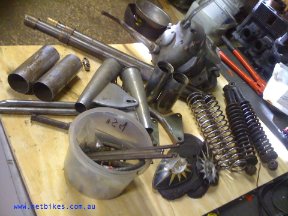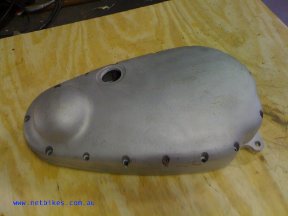 Updated Aug 28 2010: Got the tank, rear guard, tool box and oil tank back from the painters, just in undercoat as still not sure on final colour.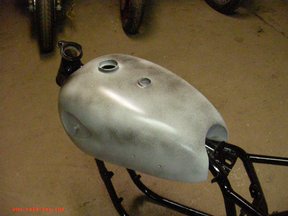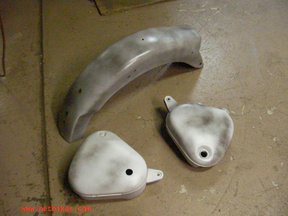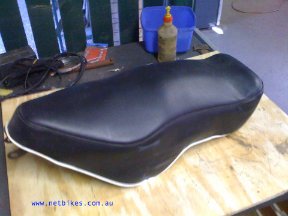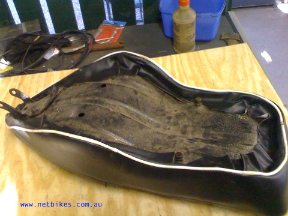 That's is all for now, I will update page as progress continues. Please use the links at top of page to see more of my projects etc.
Updated April 28 2011:
A long time between drinks I know but a lot has been going on since last year with other builds etc and I finally decided to ask my friend Will Knight to get the beeza to rolling stage for me as I was fearfull I would never get around to it.
Will has been working on British bikes for as long and I have known him, that would the 35+ years now. Couple of pictures below of what we are up to, just waiting on a couple of chrome bits for the front end and it can come off the bench and I can fit up the new and very nice alloy wheels after which the finishing will begin in earnest, can't wait now to get this baby on the road:-)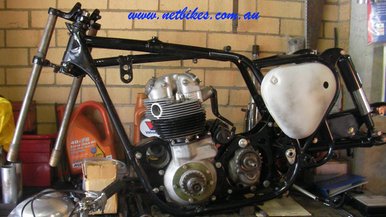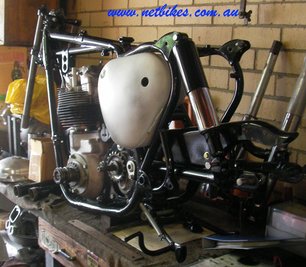 Updated May 14 2011: Still a few months to go before I finish but it is at least moving on. Below are a few progress pics, apart from the engine and the gear box most of the rest is loosely bolted on so i can remove it to do more stuff to it, for starters the brake cam levers are still at the chromer so the wheels need to come off for that , and to fit new tryes as well.
At this stage it is kinda looking more boberish that cafe, maybe I'll go that way just for a while.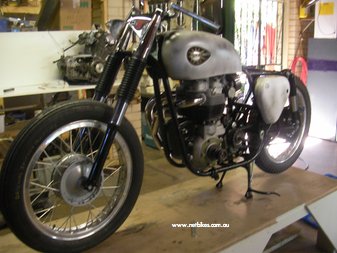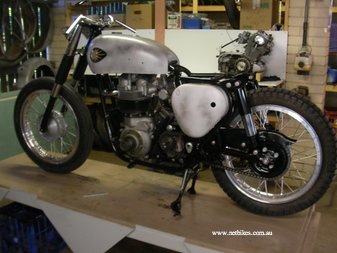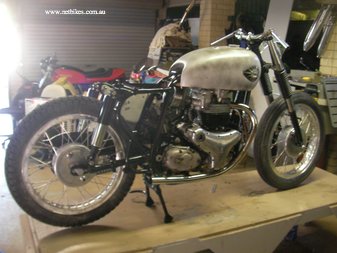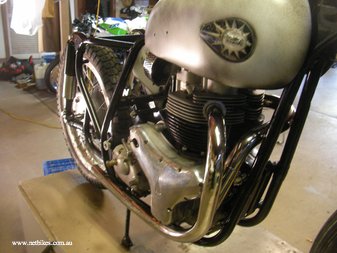 Updated July 21 2011: Slowly moving on as it were. Now has new tryes and the front end is almost done, just need to fit the front guard after I sort brackets for it, you can see the guard on the green Honda in the background, It is a cut down guard from a early Yamaha, the rear guard is also from a early Yamaha. The headlight just arrived today, it is aftermarket generic and includes the amp and headlight switches. Levers are Magura and the twist grip is Doherty, I had these parts already in the garage, the muffler came from Trogan, tail light out of Germany. I need to make, have made or somehow get a central oil tank for it, the original set up protrudes too far out of the frame to be comfortable with rearsets. Some pics below, please forgive the quality, taken under artifical light. Till next time.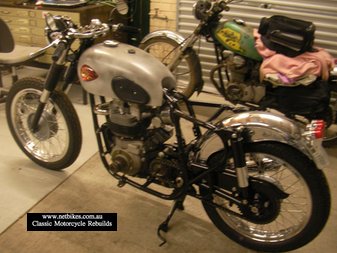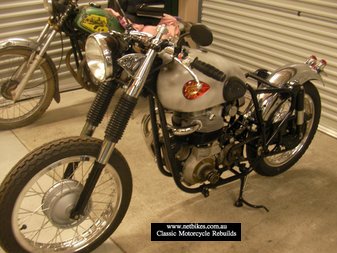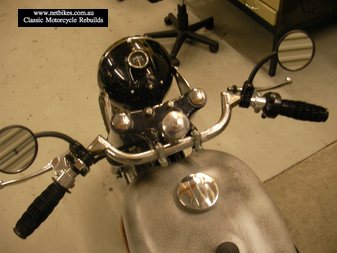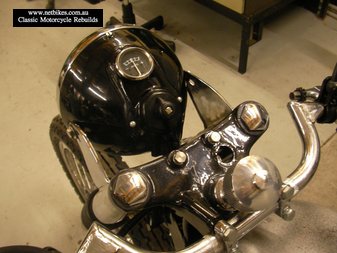 Well this is what I got up to before I was persuaded to part company with it. Not to worry, there are always more projects in netbikes garage :)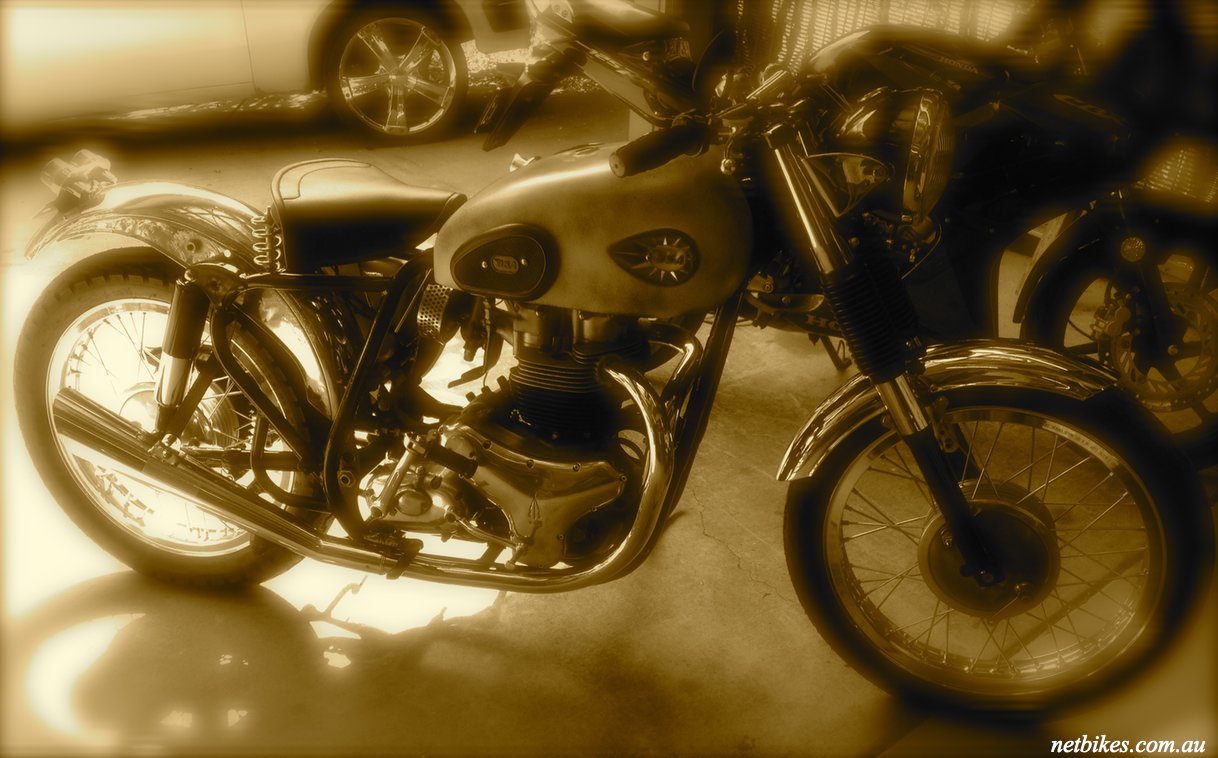 Projects Index