This bike completed and for sale now, sale details below build information. (NOW SOLD)
June 8-2018
Well yes, it would be nice, but no, the one I am building will not be as nice as the one in the pic above. You see when this bike is complete it will be for sale so in the interests of keeping the price down for both myself and the buyer I have opted out of rechroming except for a few small bits n bolts. In favour I will rebuild the motor from ground up, do all the painting of body work, new seat and so on.
To follow this page I recommend you friend me on Facebook, I will update there regularly. My Facebook Page. My email address is also at the bottom of this page so if you have a purchase interest you may contact me that way.
In house inspection is available anytime through the build progress too.
I will just drop pictures of progress as I go along, this first slab will highlight a few of the new bits going into the build and some prelim work already done.
This page will become image heavy after a time so you may want to make coffee while page loads :)
Some images may seem unnecessary or almost doubles, this is just to show potencial buyers as many angles or individual parts as possible, and their condition.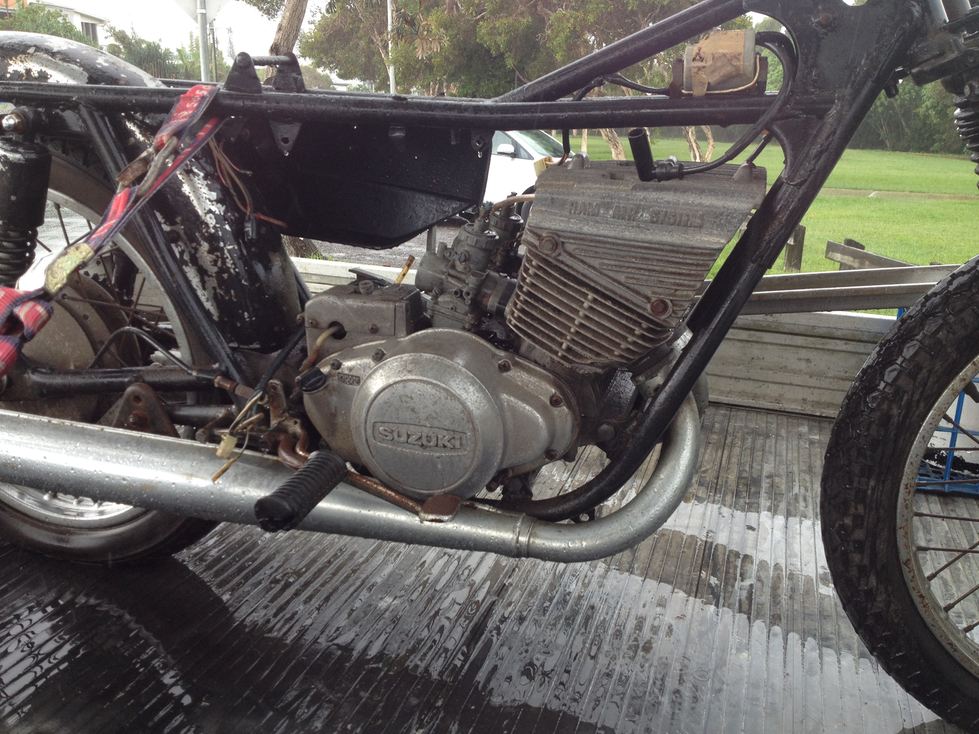 This is how I received the bike, that's it, there were no other parts, I am lucky to have a number of spare parts here for it. Note the bent/broken fins on the right barrel, this barrel will not be used.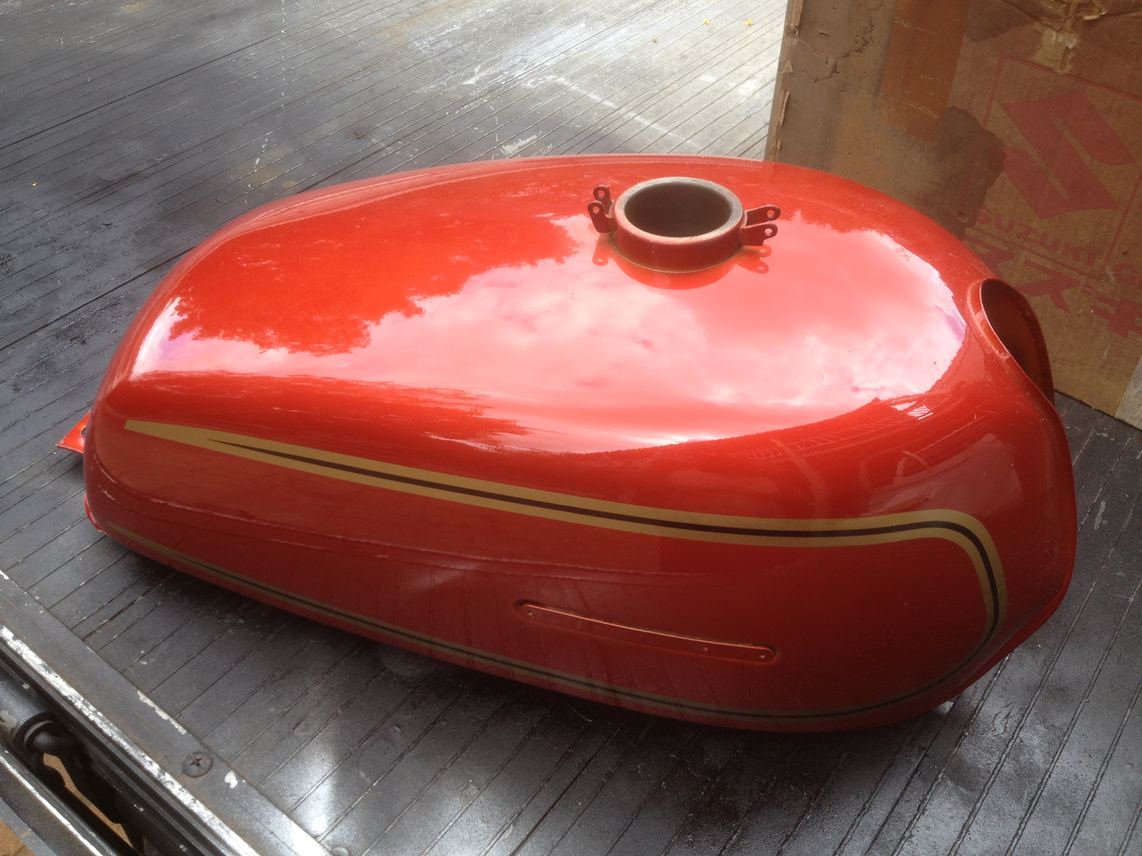 This is the tank I will use, it is NOS in perfect condition. Now you're getting excited hey :)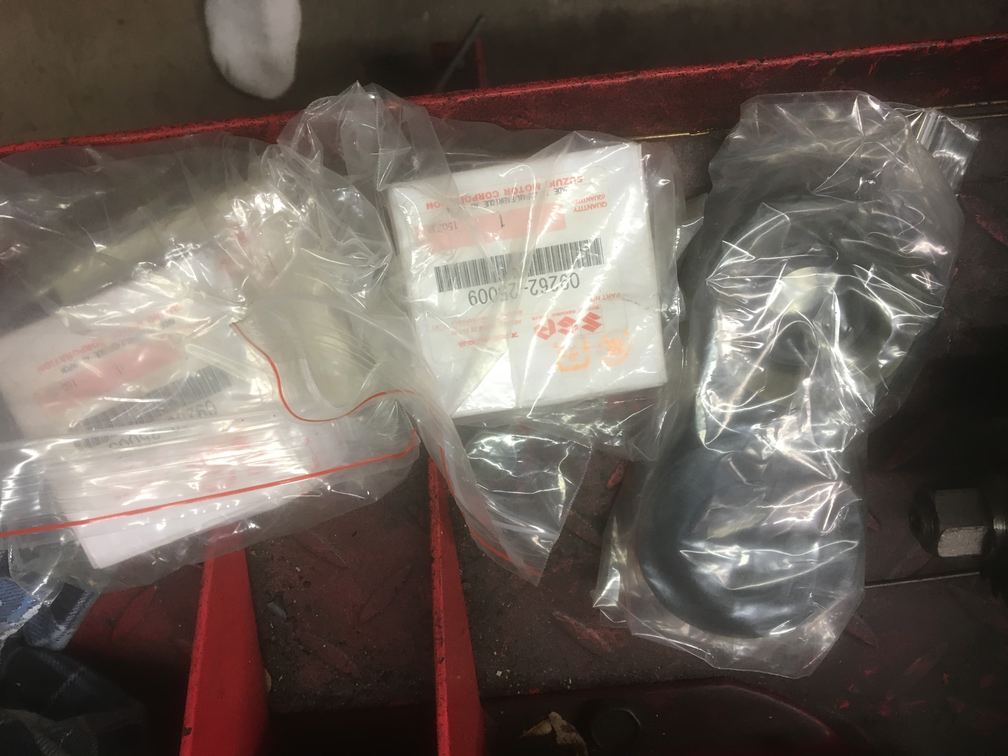 New crank bearings and seals.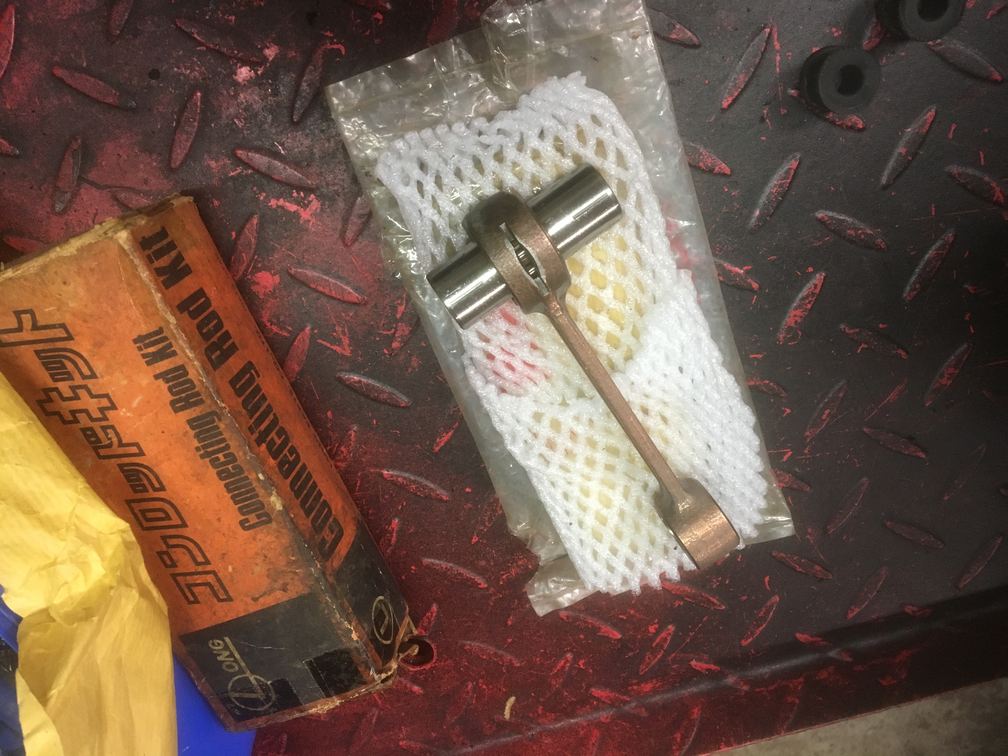 New rod kits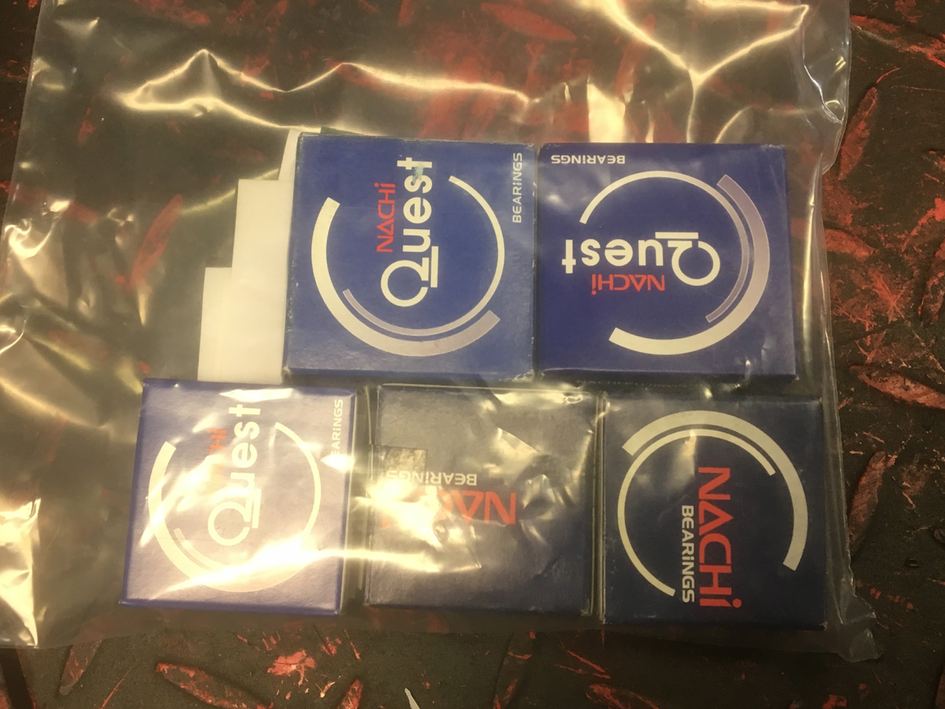 New wheel bearings and sprocket holder bearing, I also have new steering stem bearings.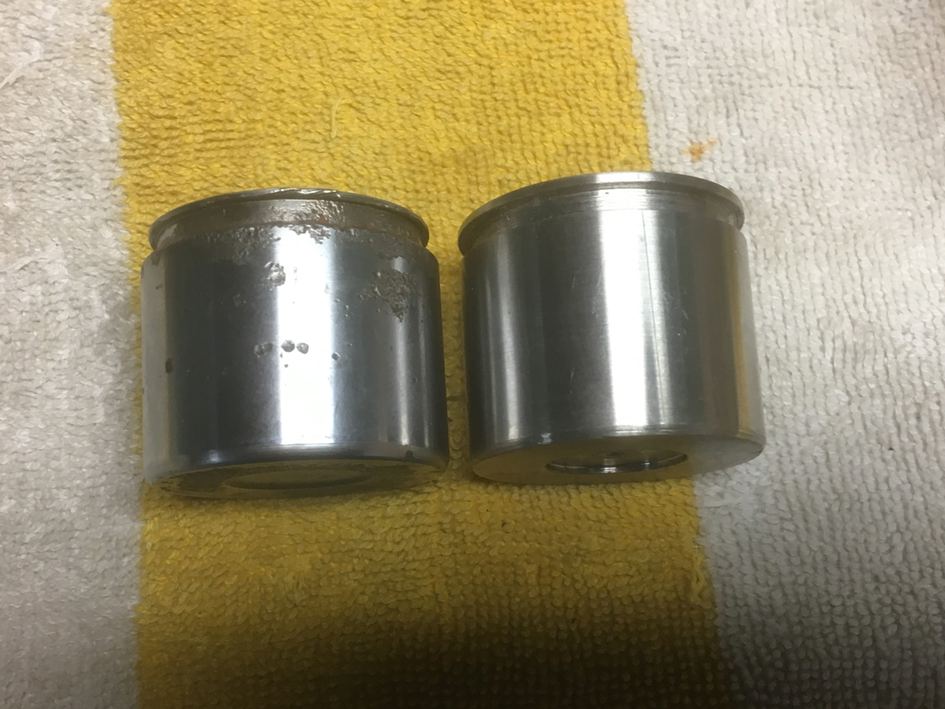 New brake caliper piston. Got a mate to machine this up for me.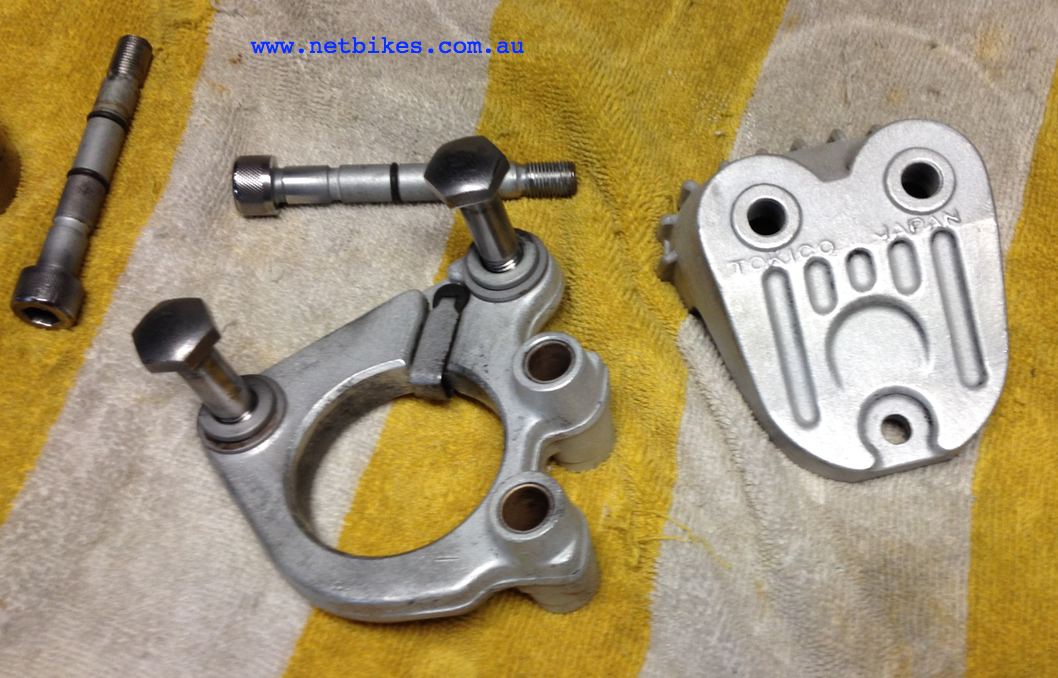 Calliper parts blasted and ready for paint.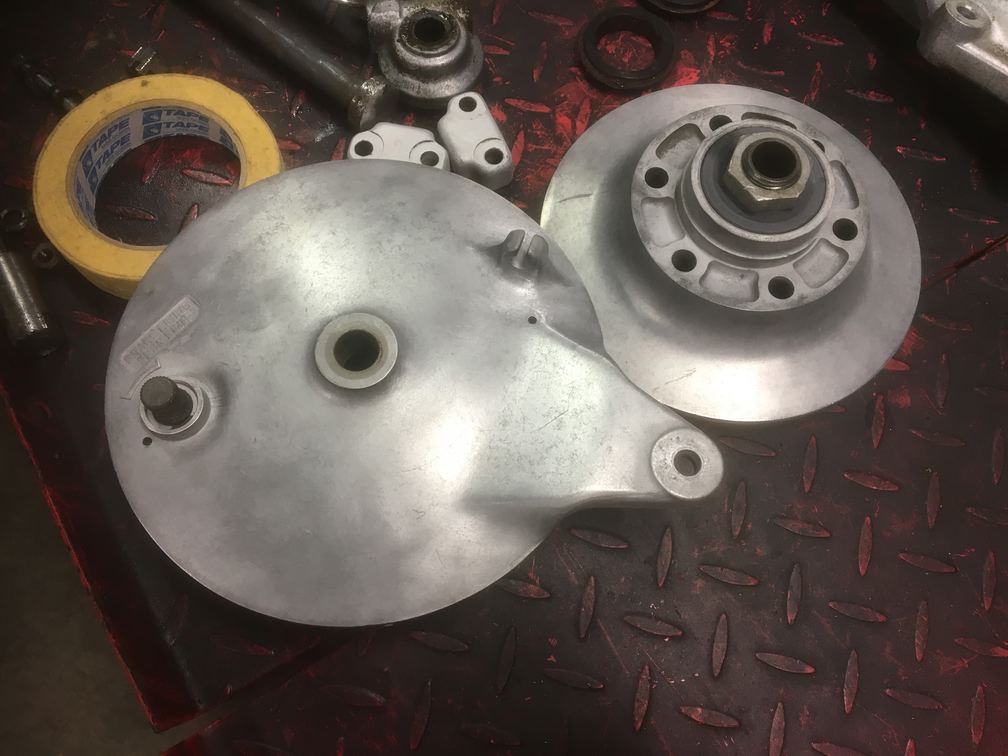 Sprocket holder and brake plate cleaned and ready to fit, no I won't be polishing them.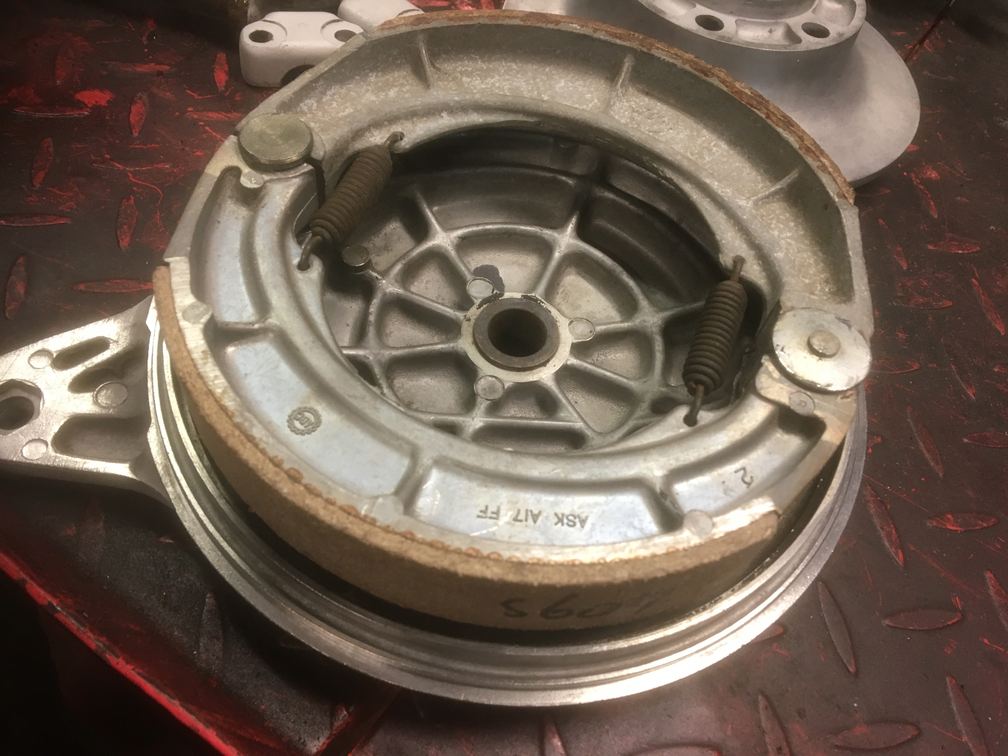 New rear brake shoes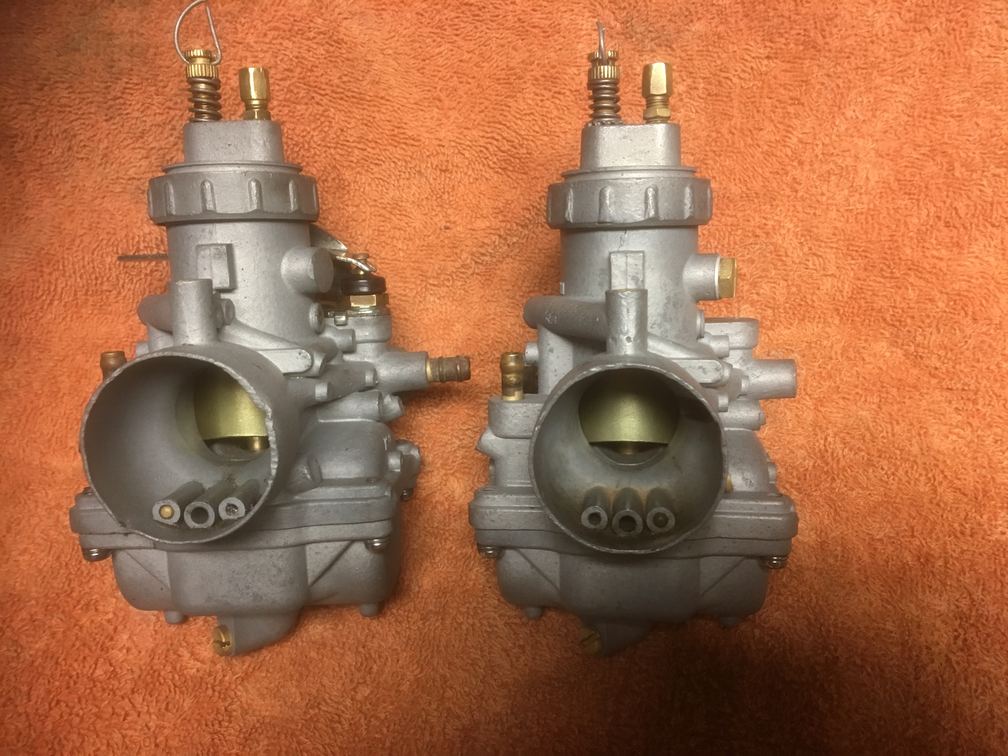 Carbies cleaned both internal and externally, bench tested for leaks, now ready to fit up.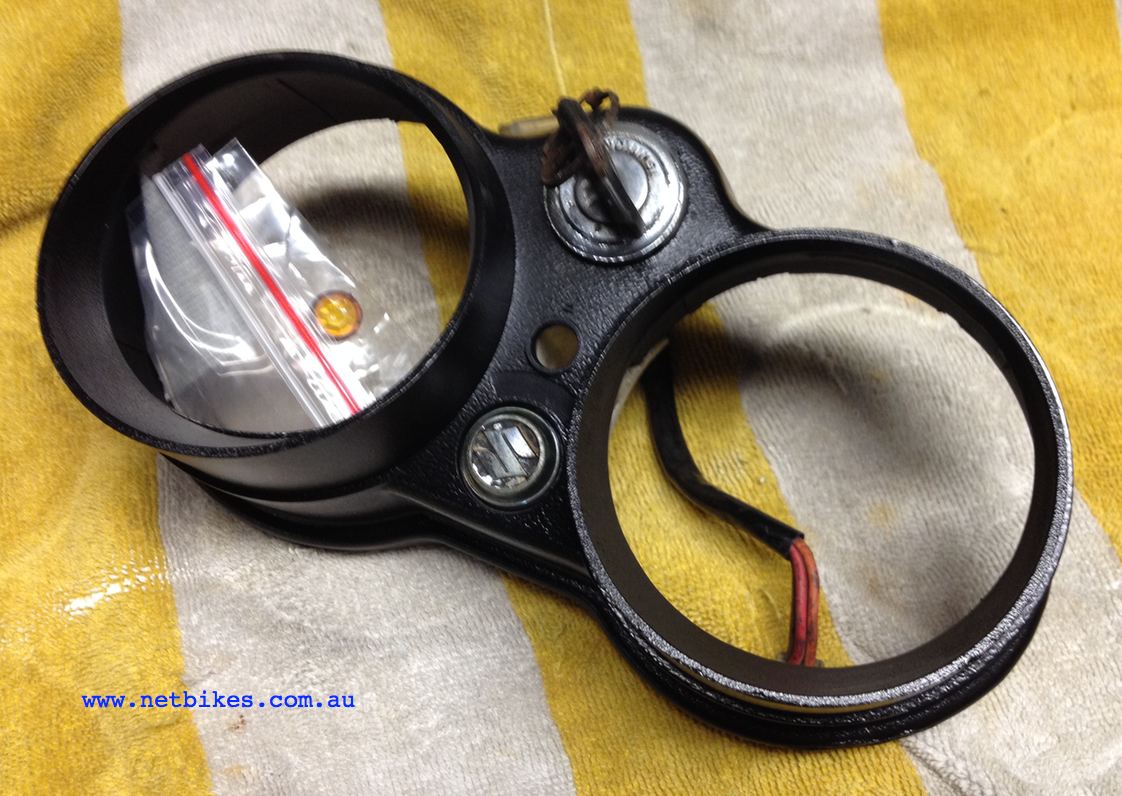 Instrument surround readied for fitting.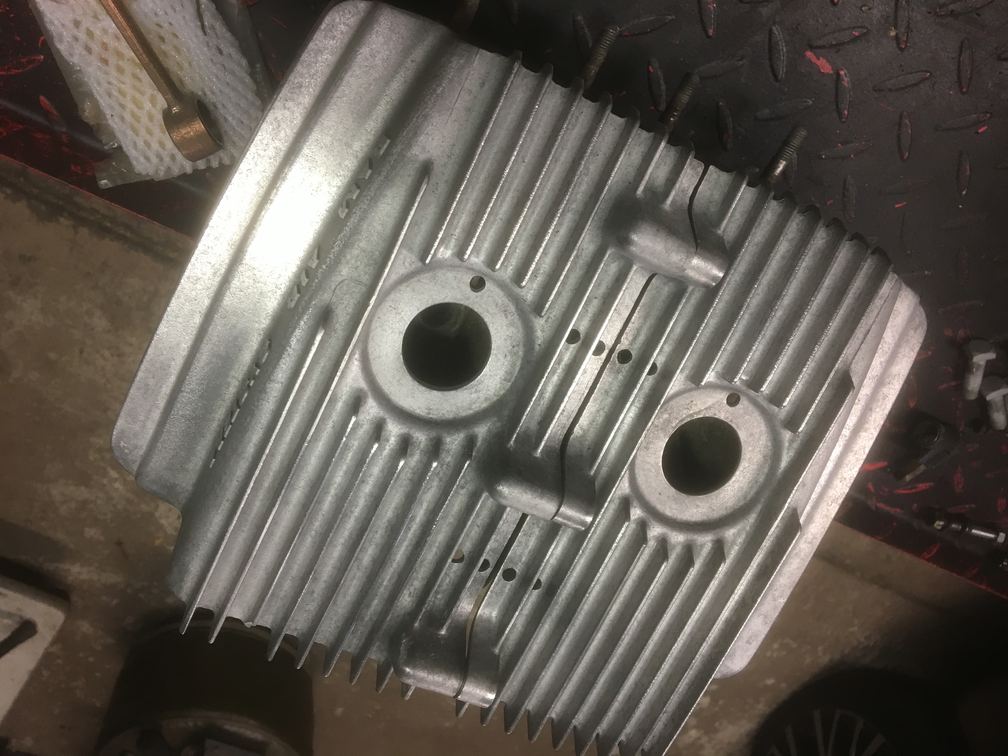 Ram air covers readied for fitting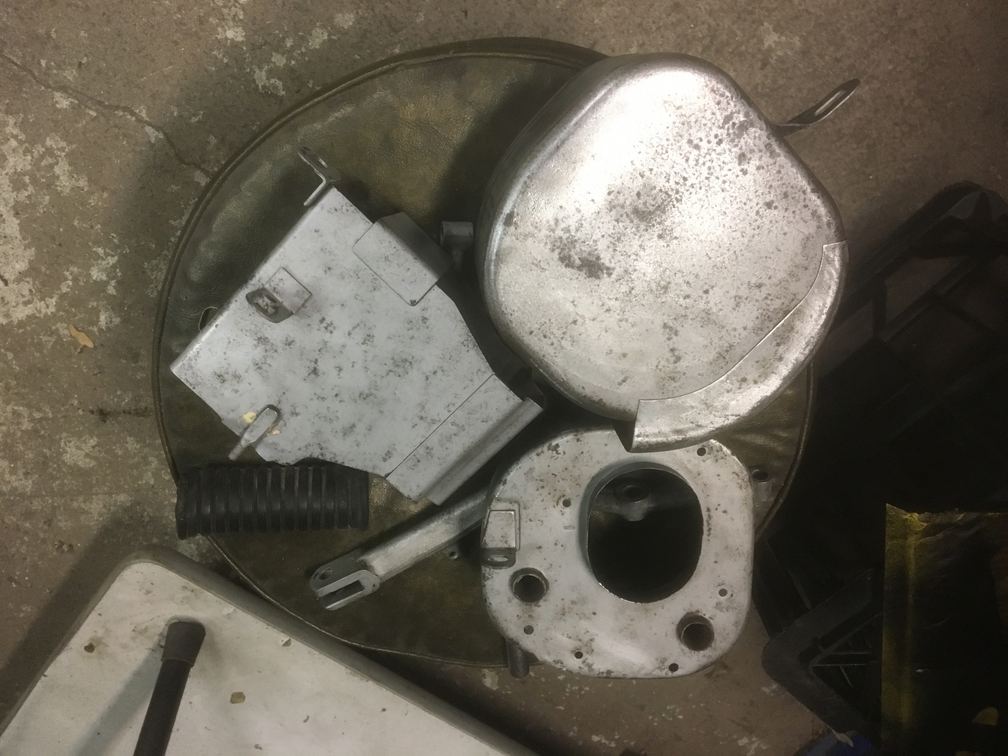 These parts prepped for painting.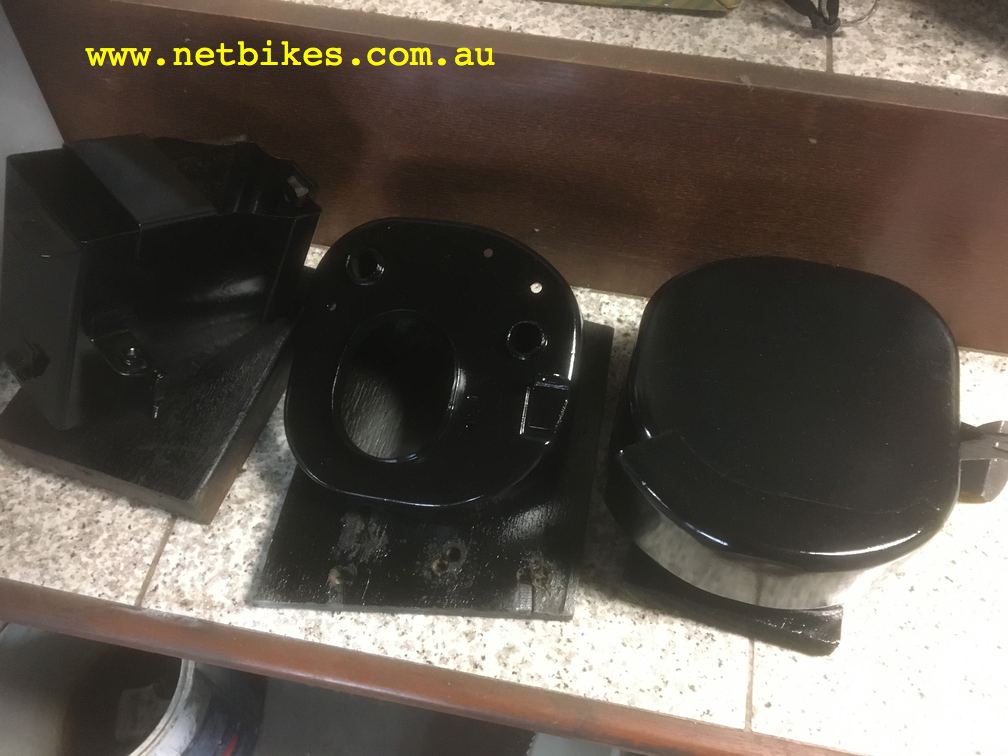 Job done.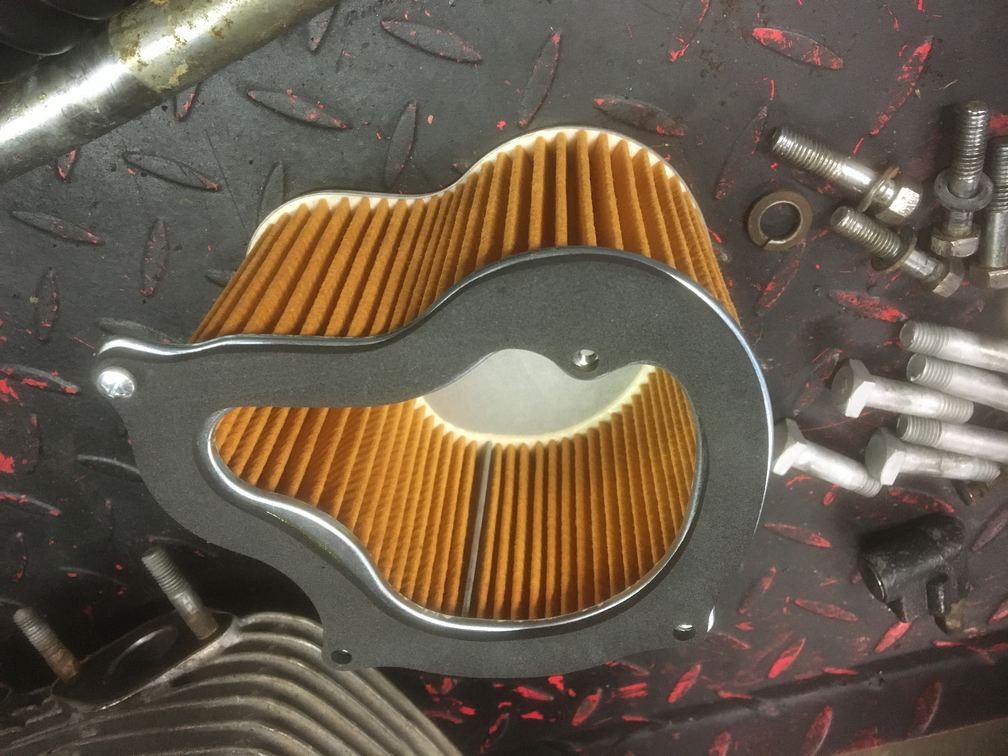 New air filter element for the box.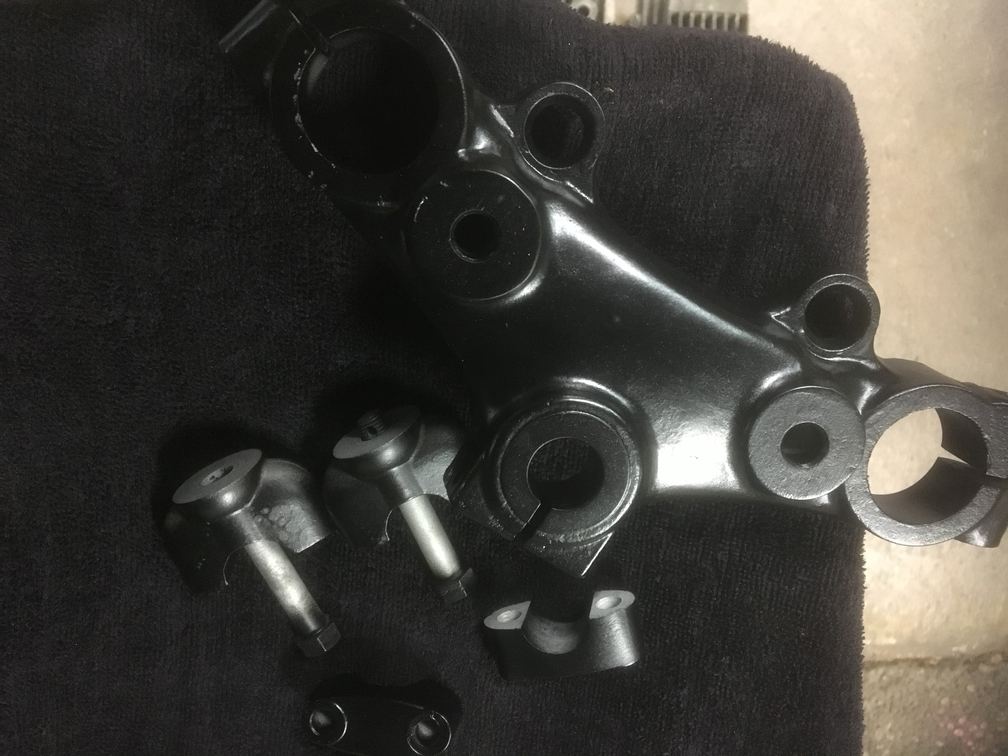 Top clamp made ready for refitting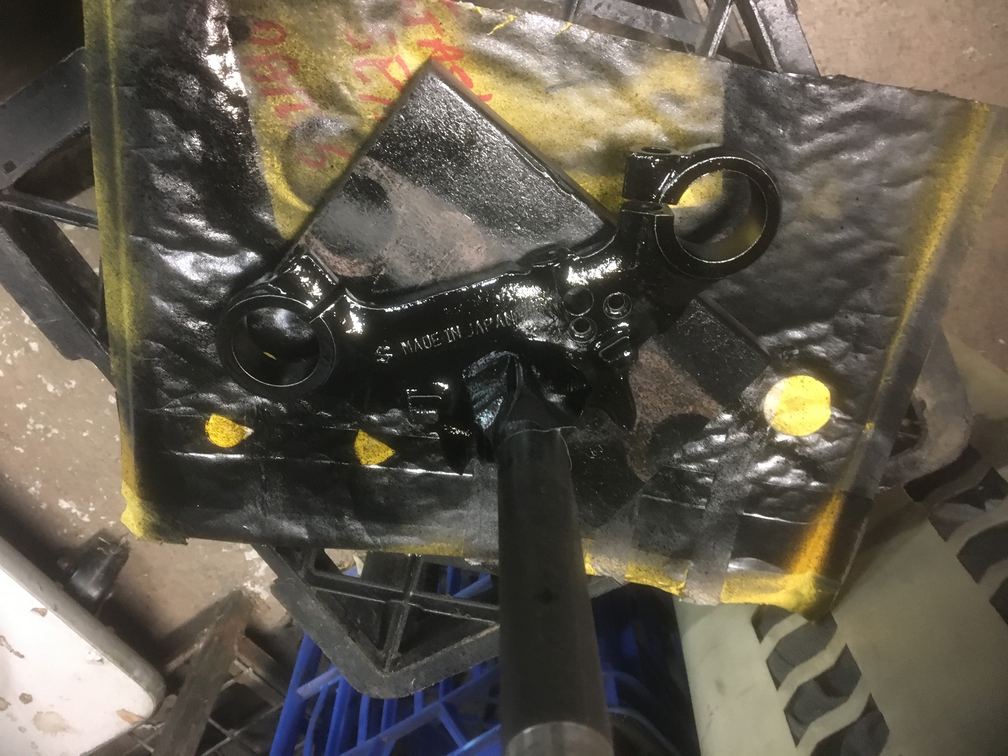 Lower triple clamp made ready for fitting.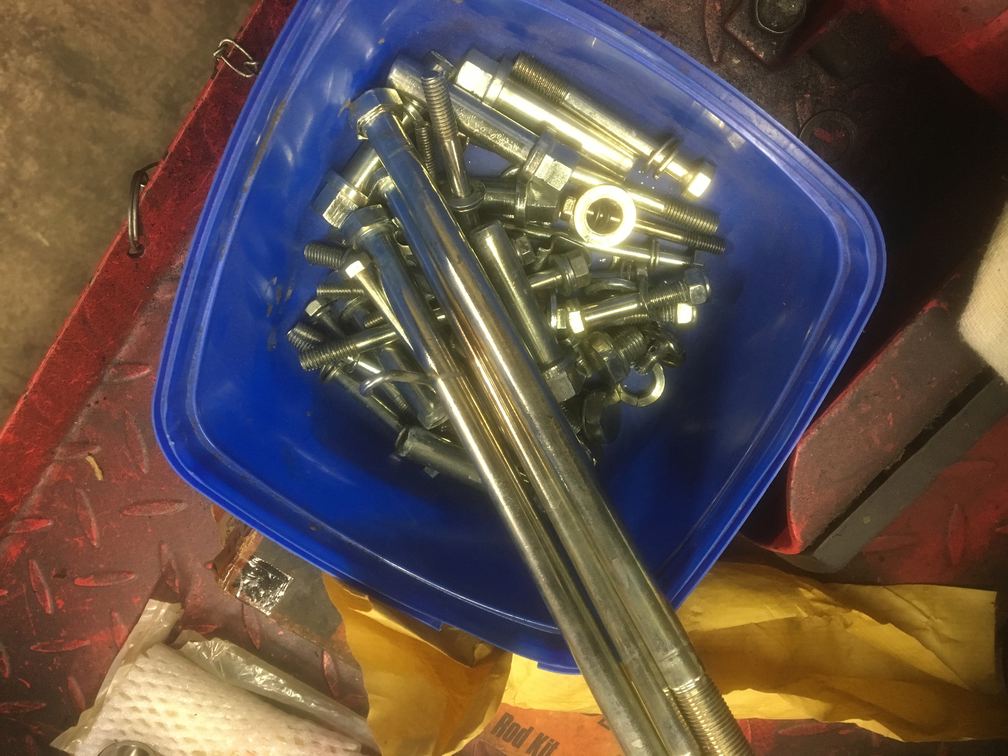 Cycle threads re plated.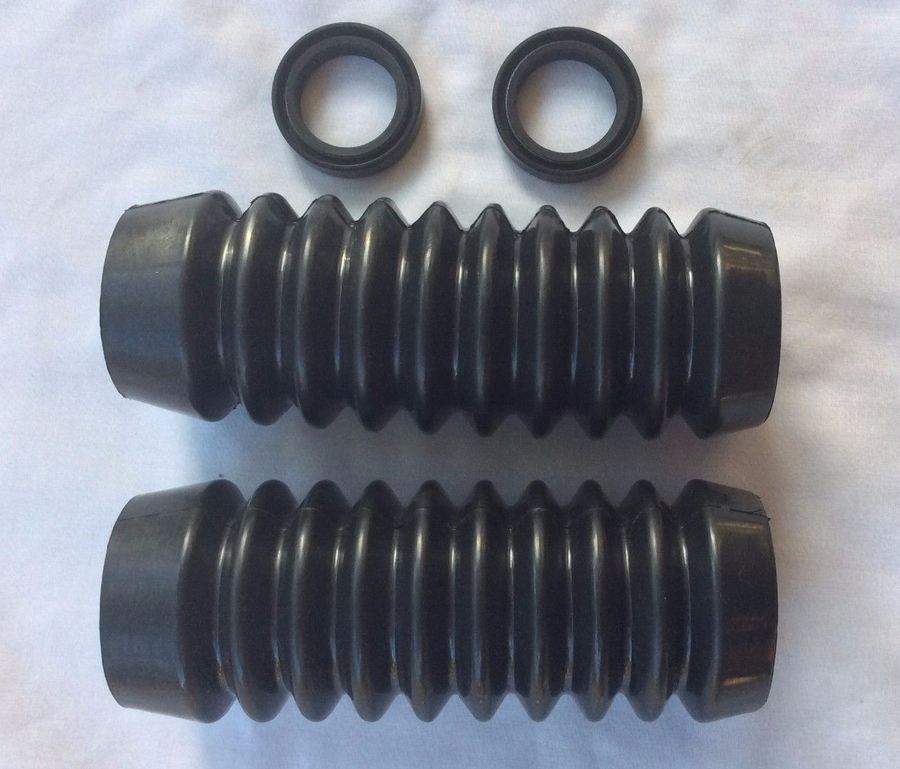 New front fork gaiters and seals.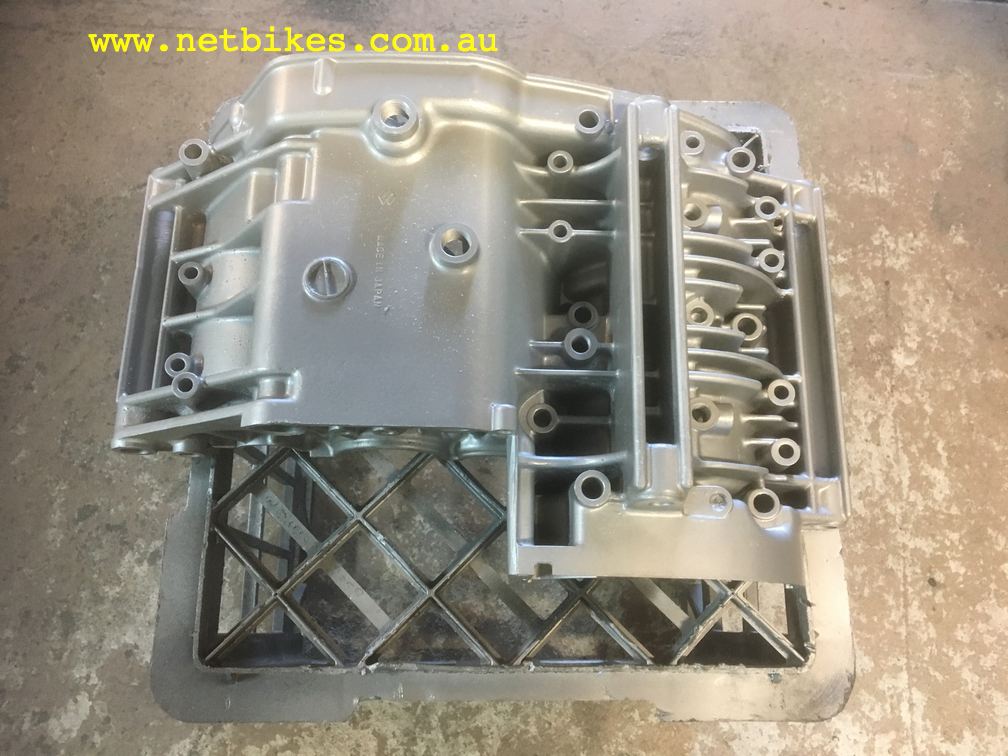 Lower case ready to fit up.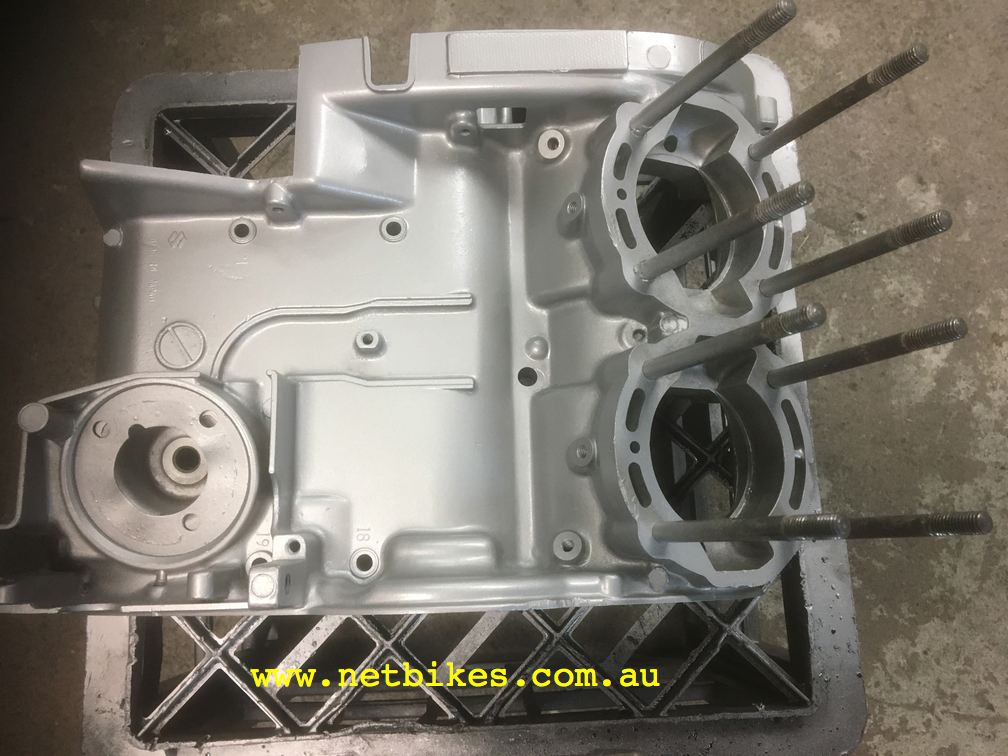 Top engine case cleaned and painted ready for more work.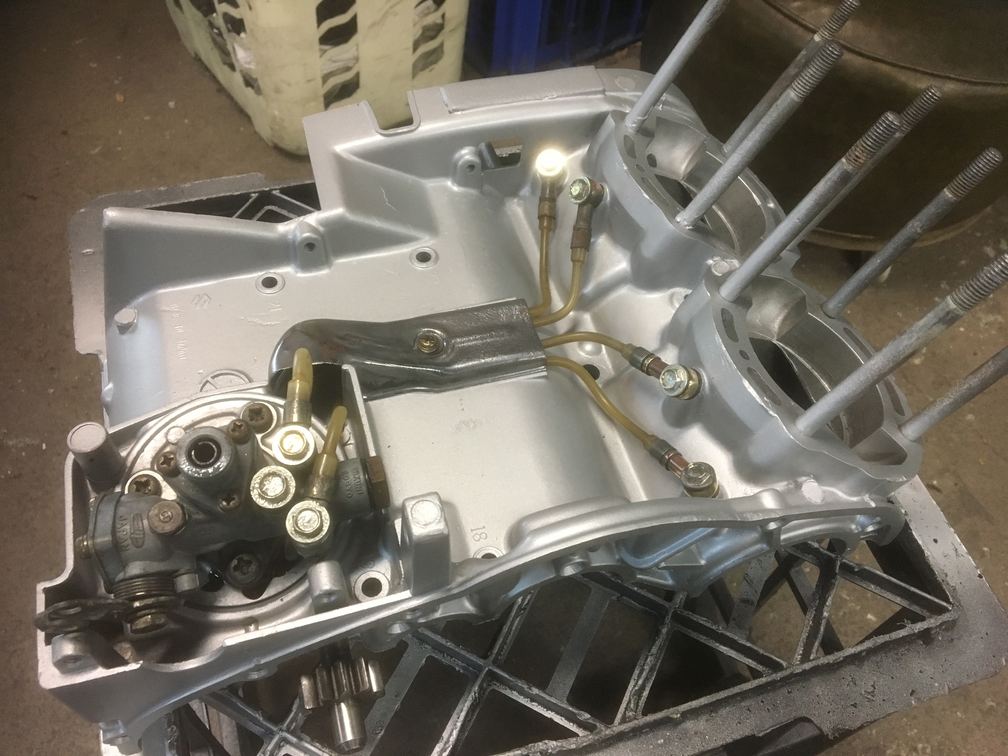 Pump and lines fitted, will bleed before operation.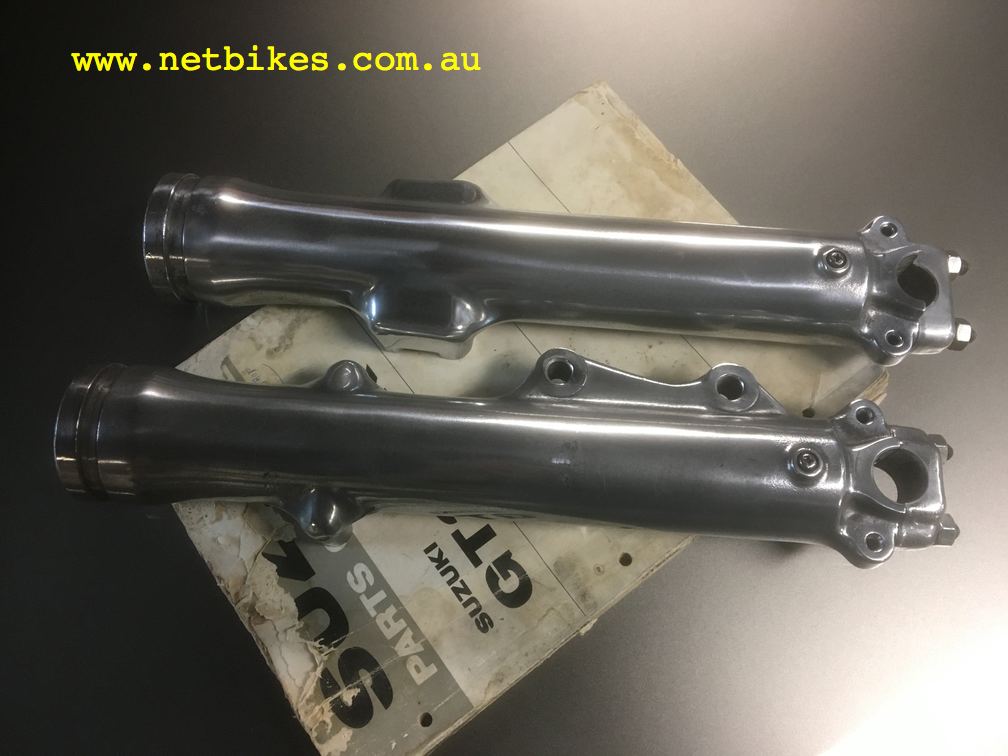 Front fork lowers blinged up.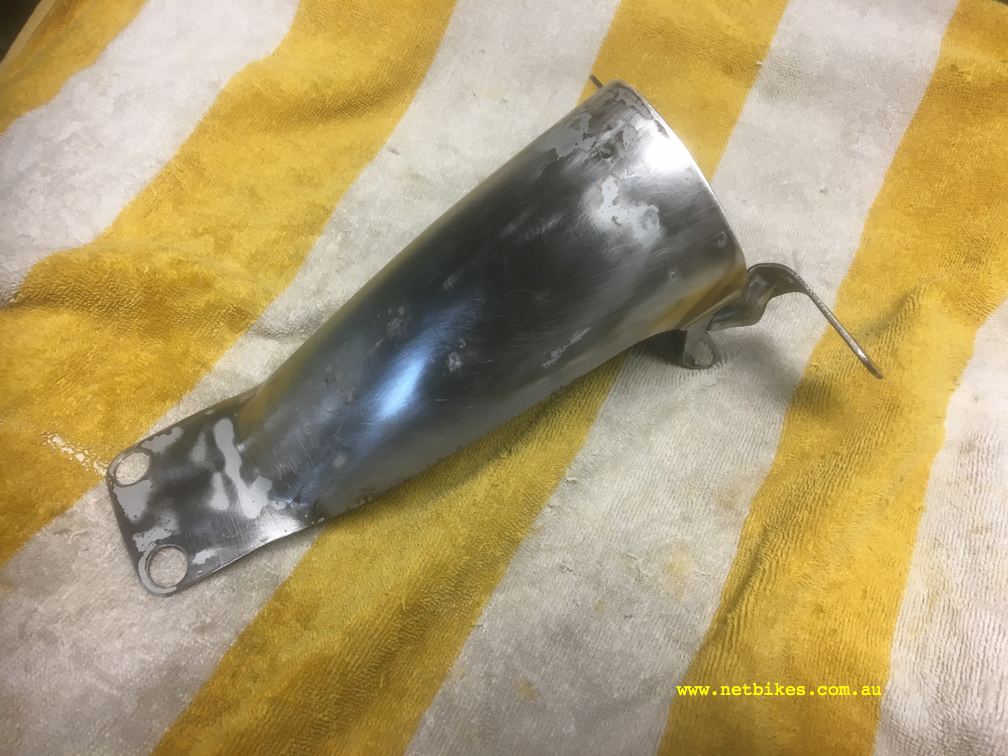 Tailight mount prepped for painting, this came off a 1966 T200, so first time repaint in 50 something years.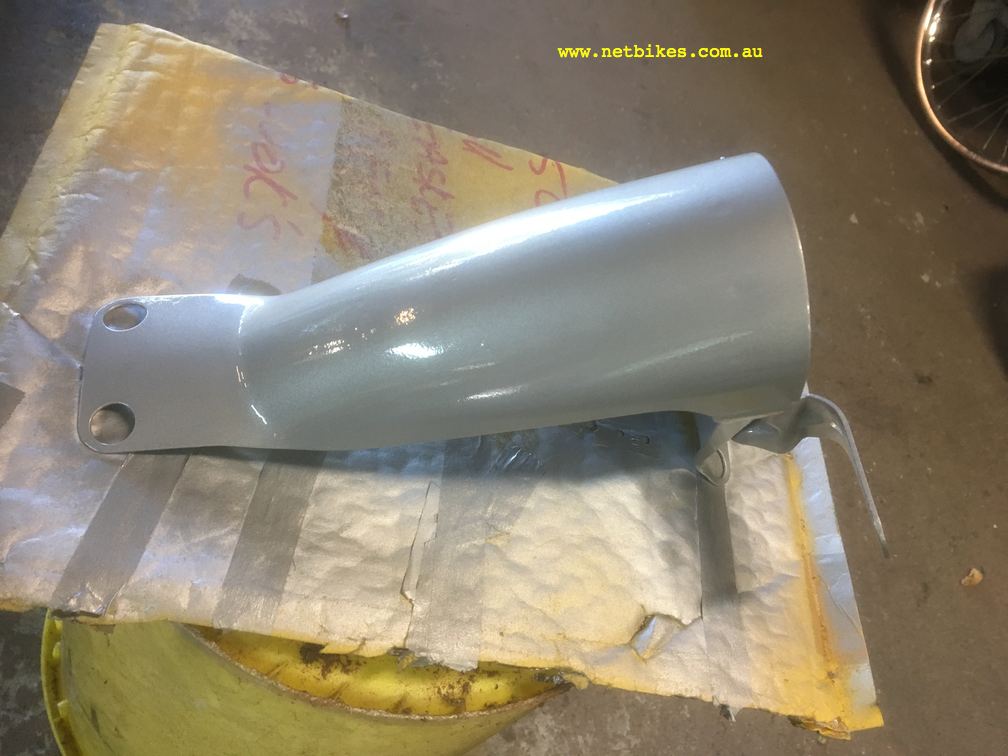 Job done.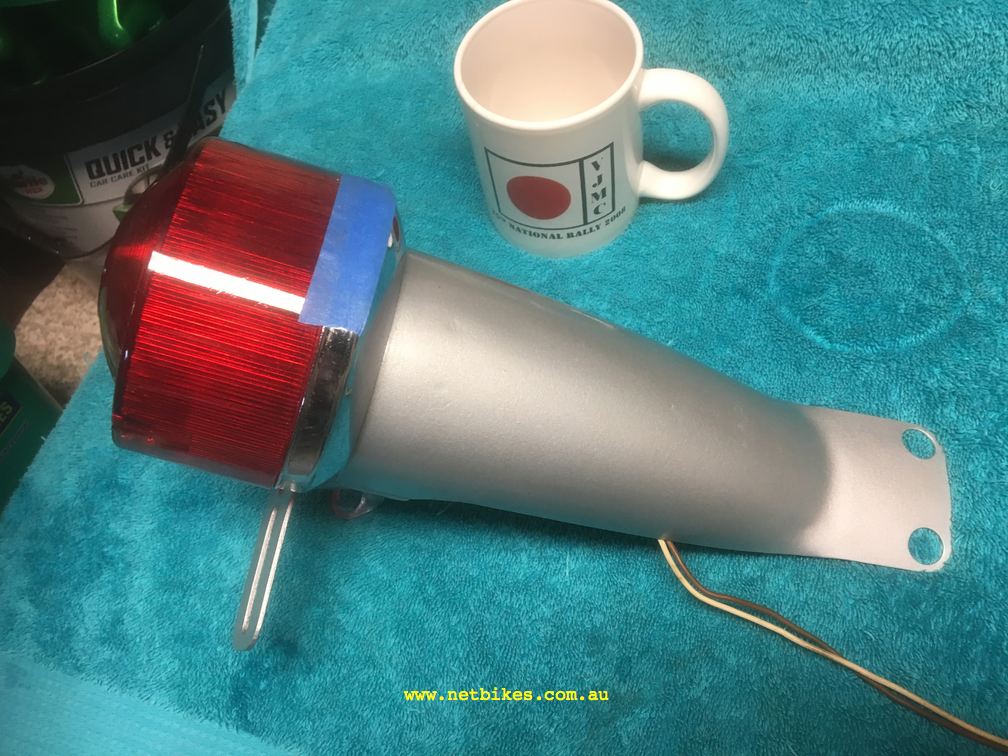 Ok last look at this :), nice new tail light lens, so pretty, it's gotta get screwed still :)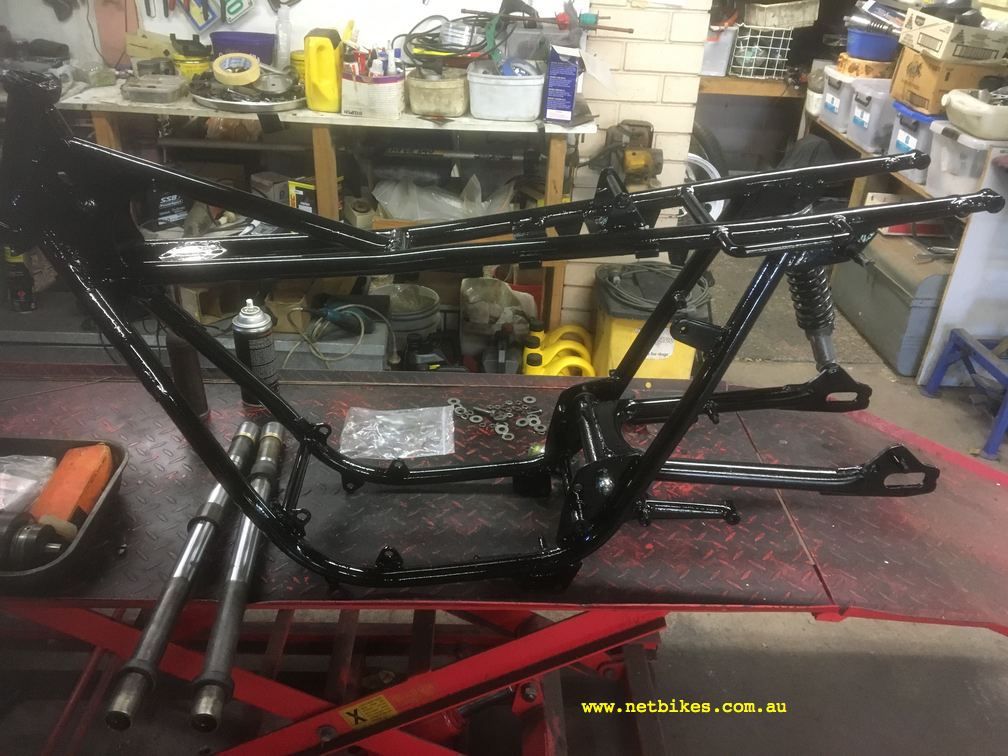 Frame freshly painted with Killrust black gloss.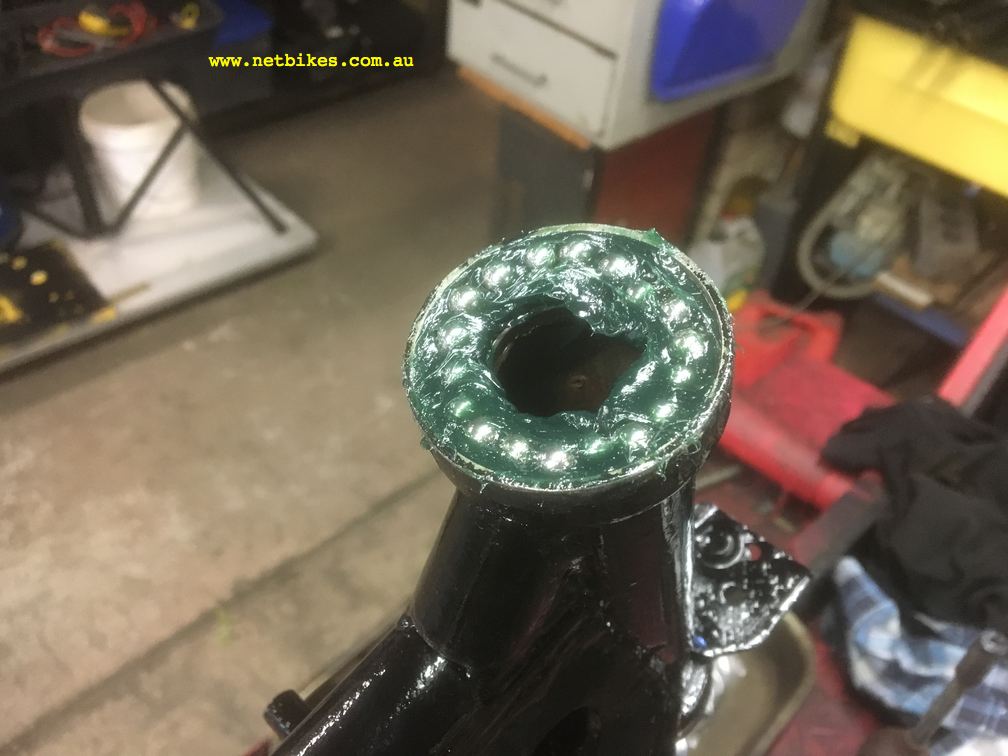 some new bearings for the neck.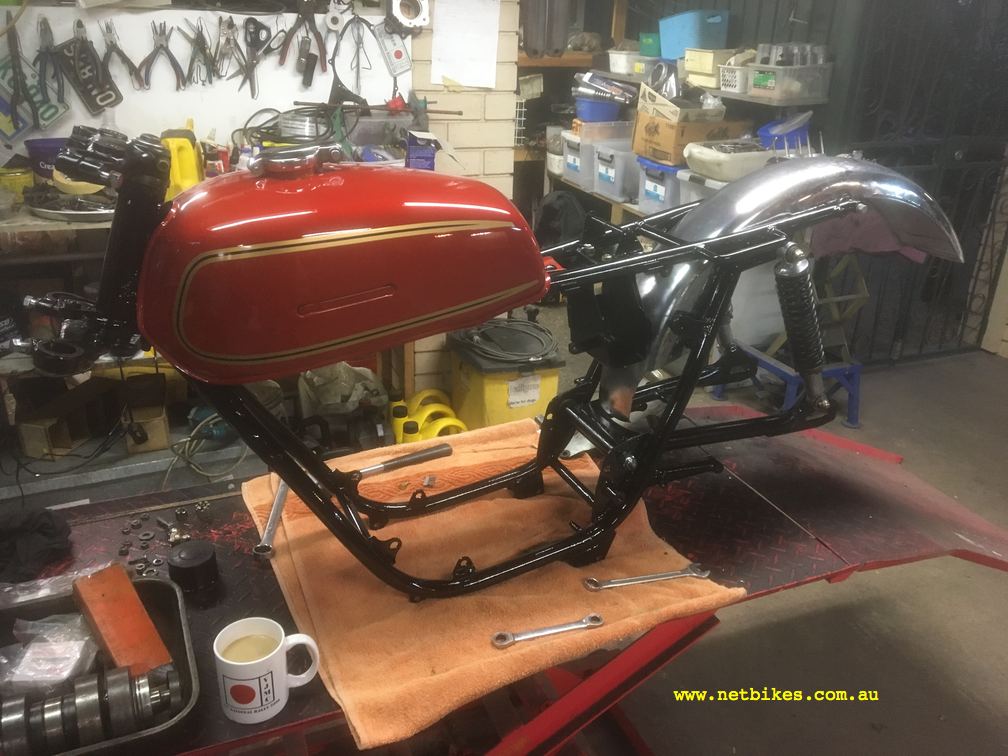 Quick mock up with the NOS tank, sweet.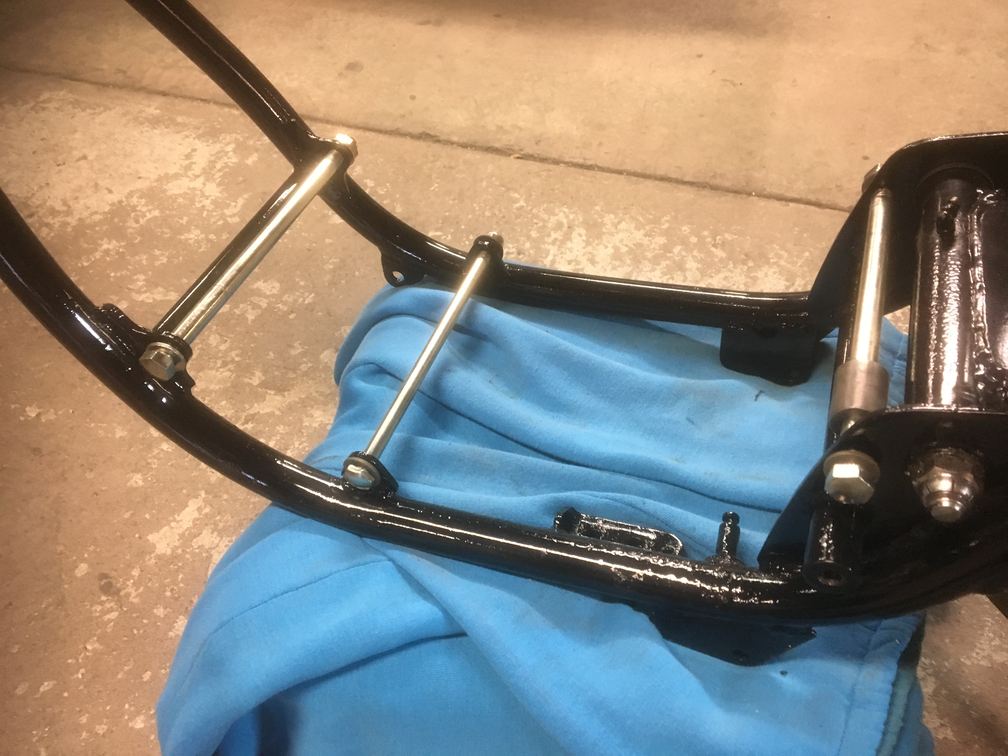 Engine mounting bolts, newly zinc plated.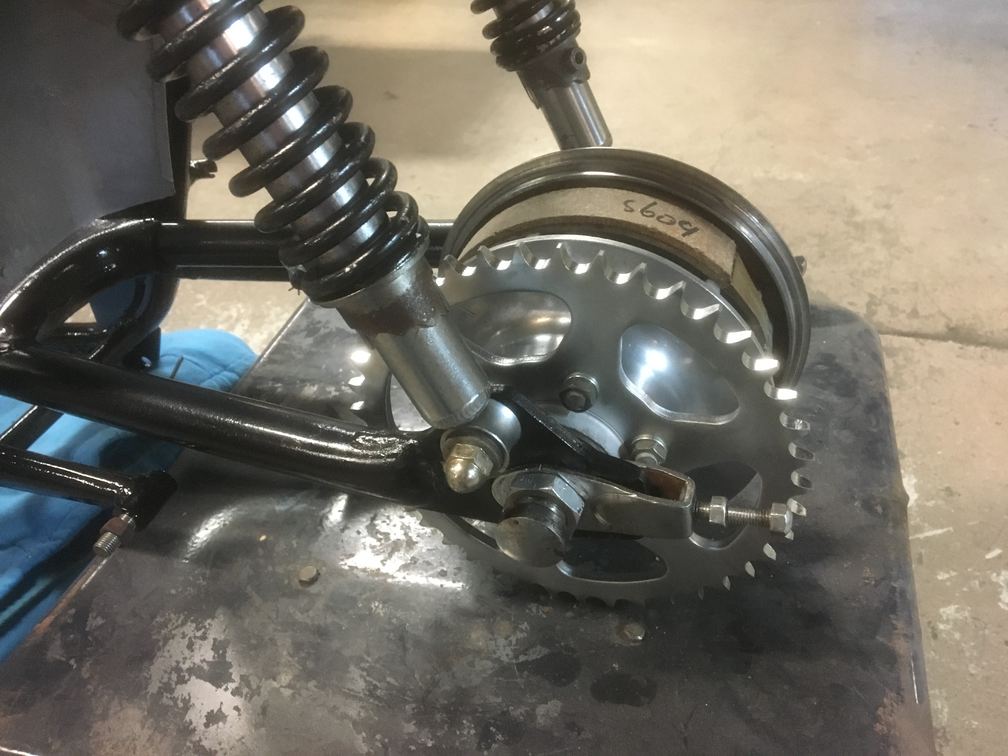 New rear sprocket, 41 teeth, 525 pitch, standard.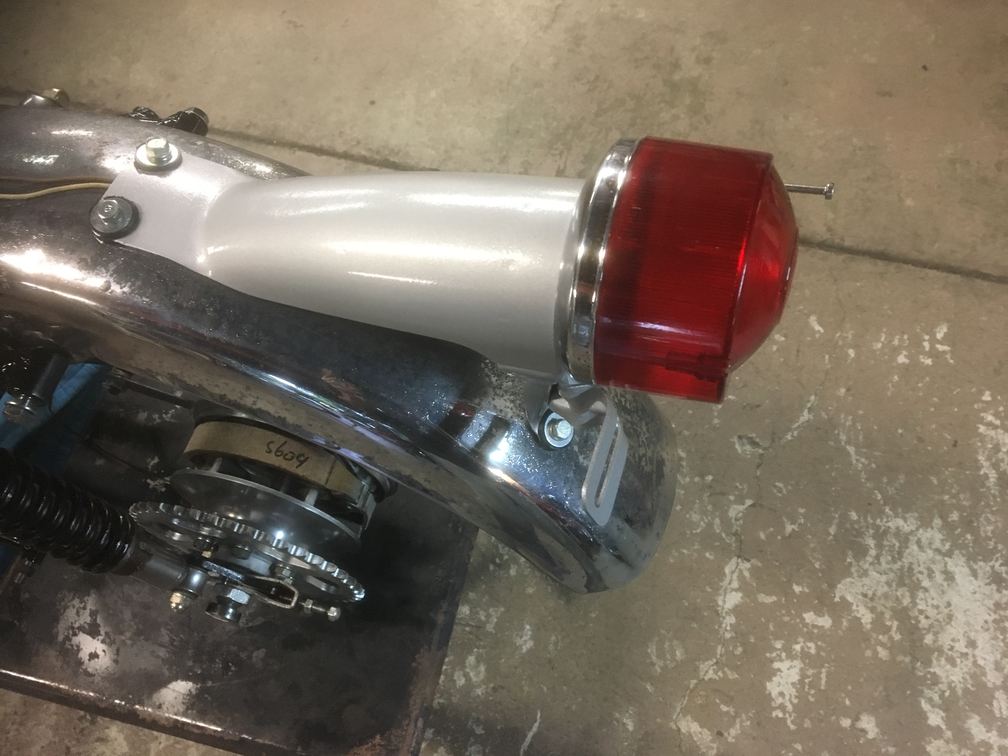 That bloody tail light again :)
July 1 2018
Below: We are now up to almost rolling, just waiting on the front wheel to get its new tyre, should be in the next couple days.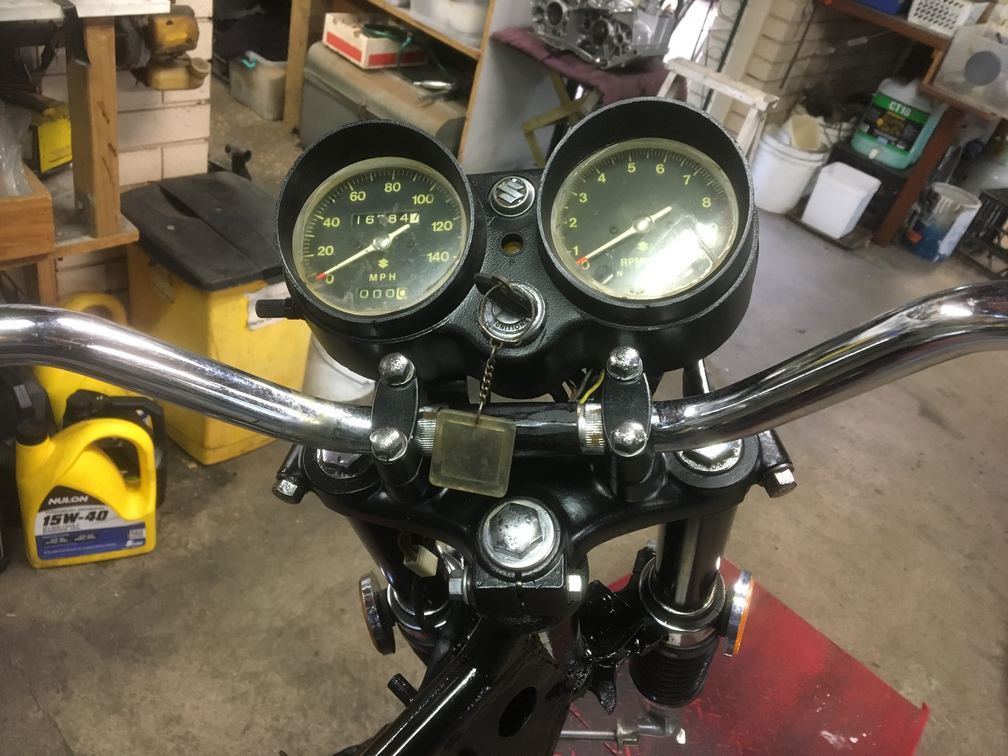 Instruments cleaned up and fitted, they are not perfect but in working order and will do what is required.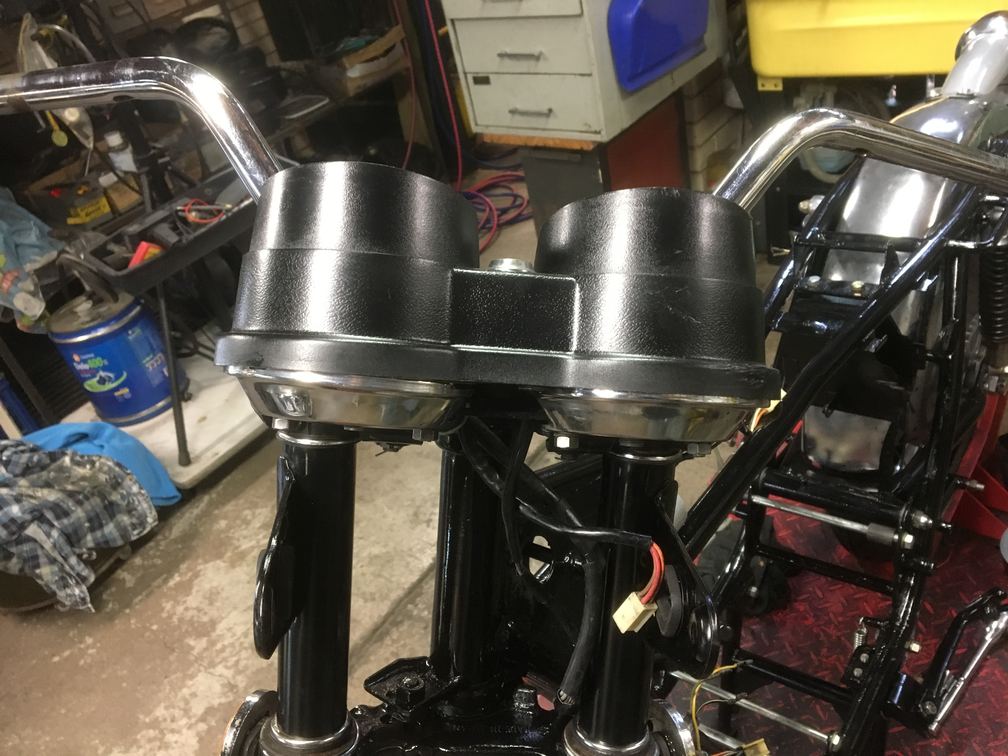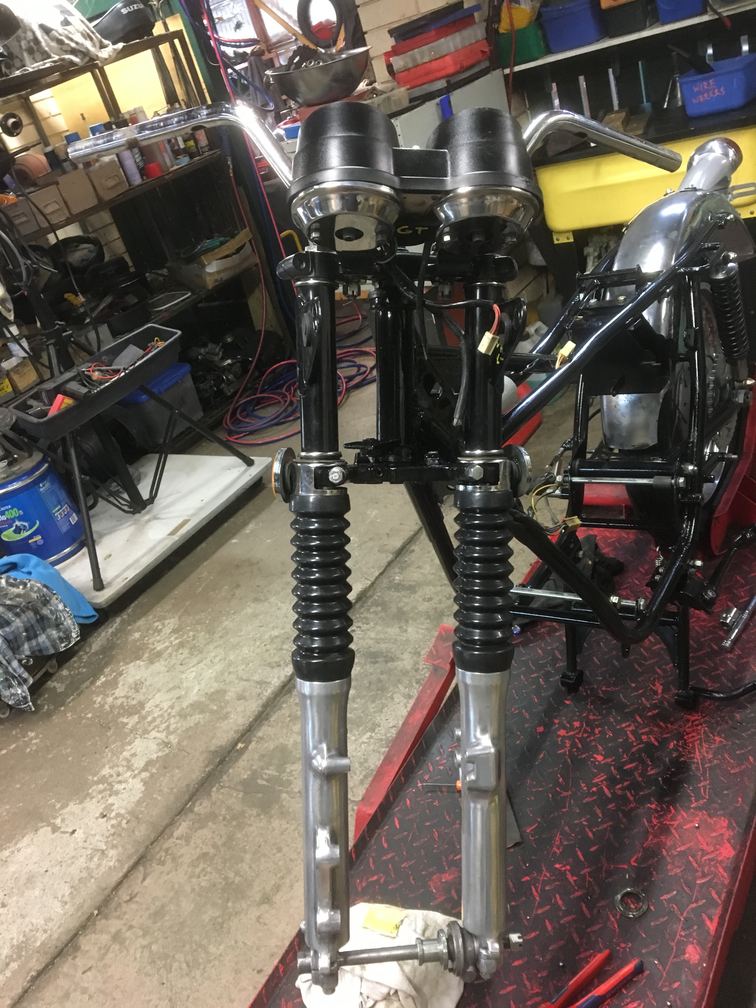 New fork seals and gaters fitted, the frame neck has new bearings.
July 3 2018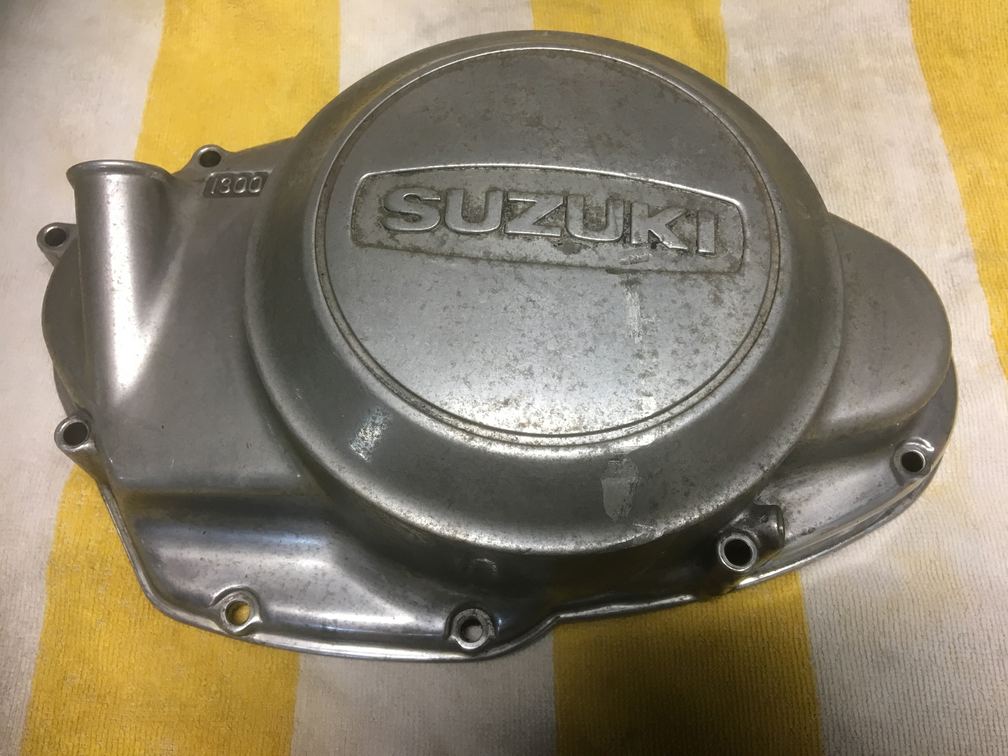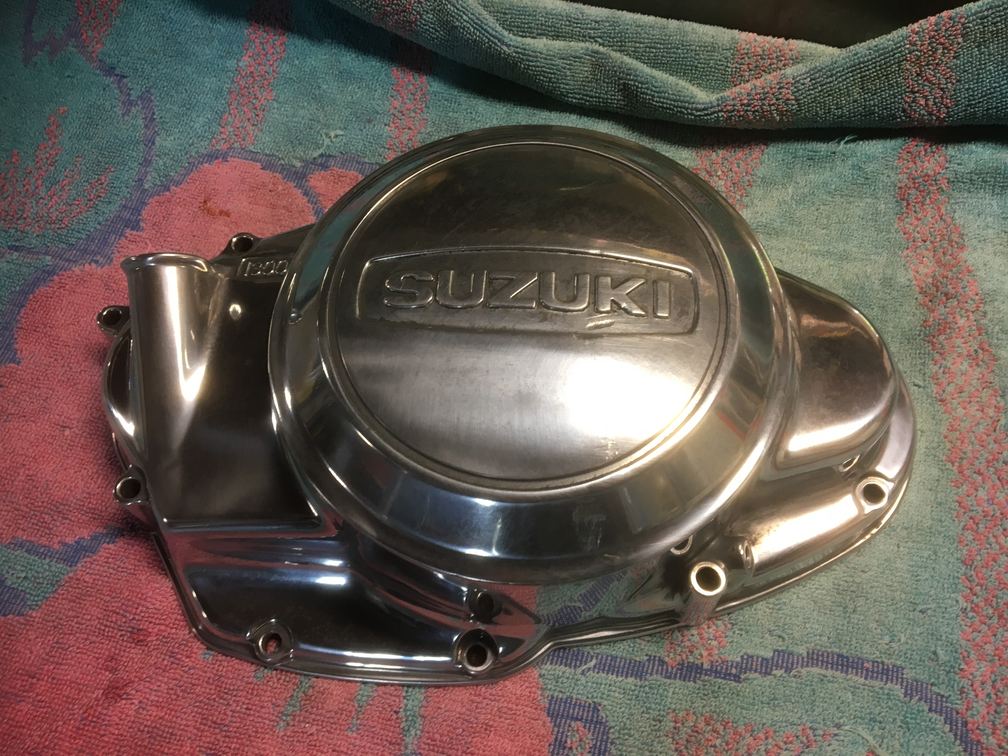 Before and after clutch cover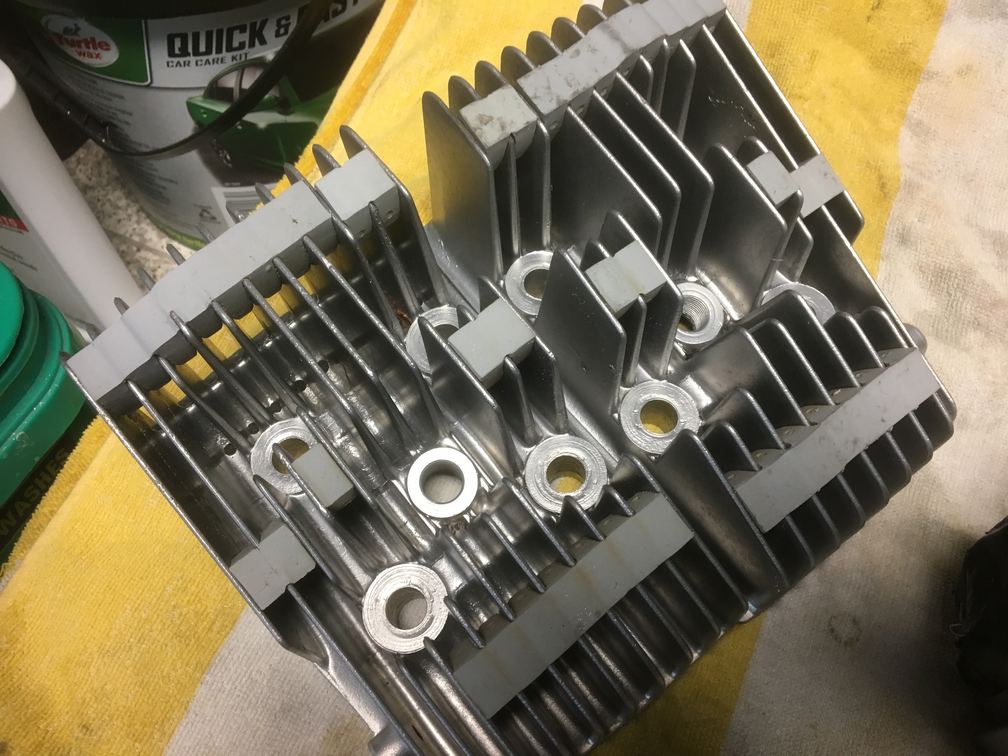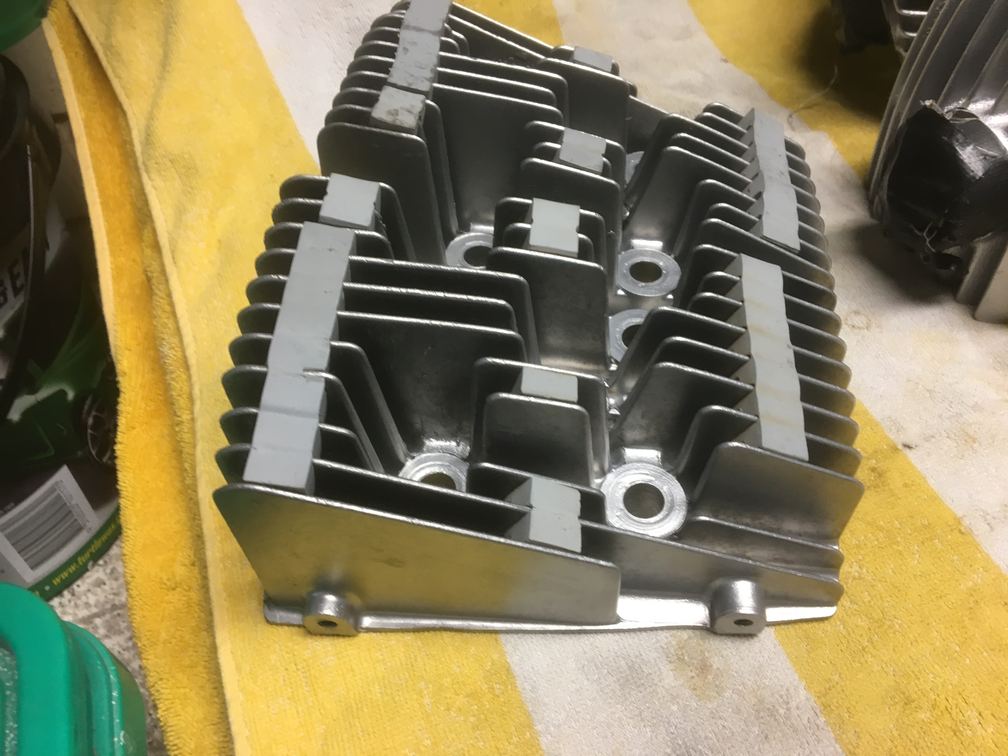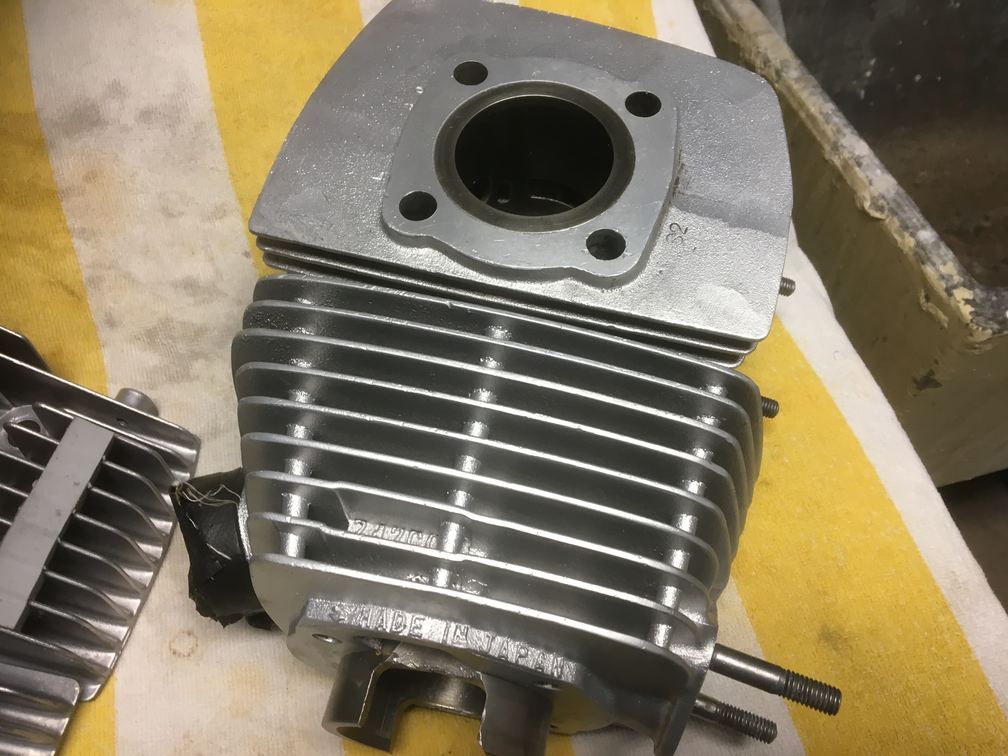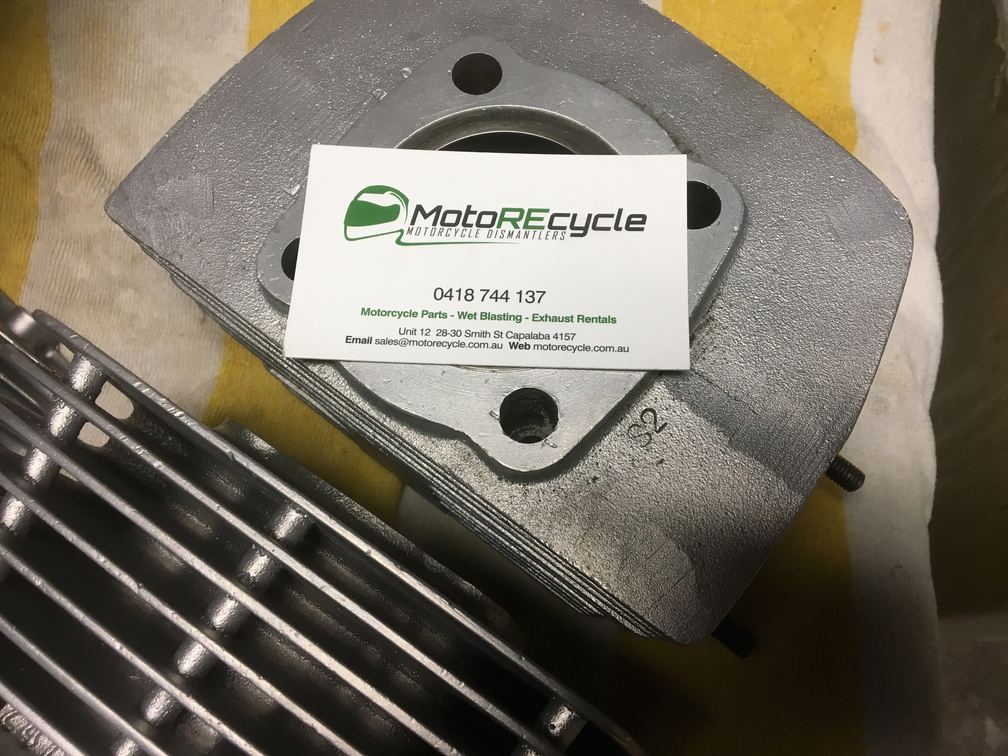 Barrels and heads after blasting, thanks Chris, very nice job.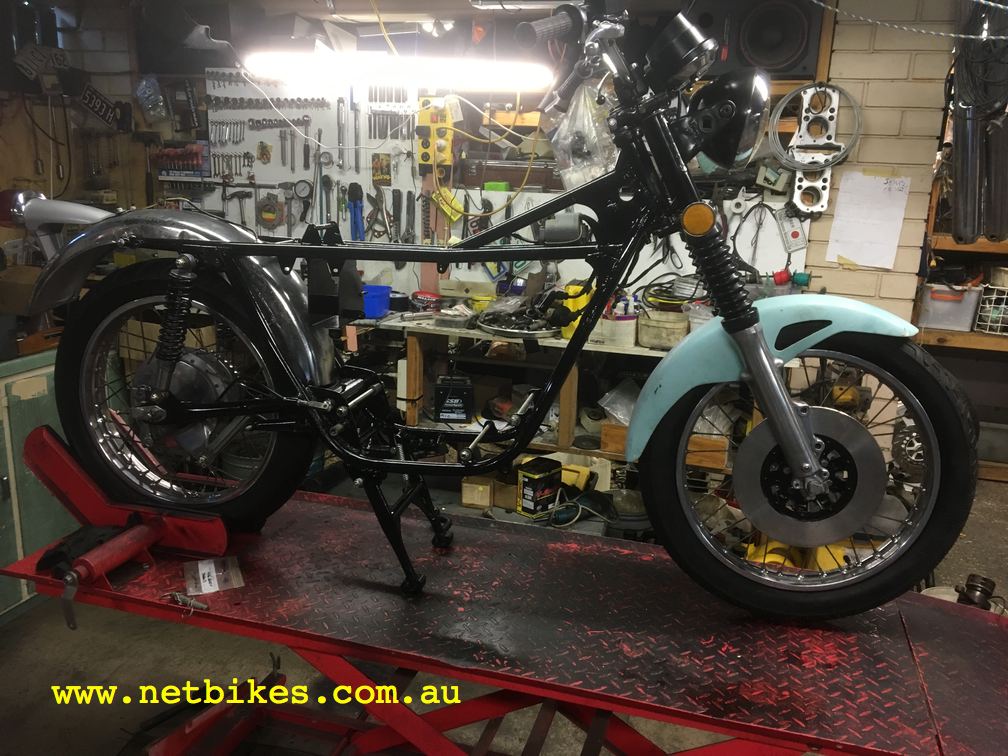 And we're rolling, new tyre to the front and of course new bearings. At this time this is the guard I will be using, it is from a GS250 and fits right up, I noted after pic I have it on in reverse :). it will be painted to match the tank I think?
July 10 2018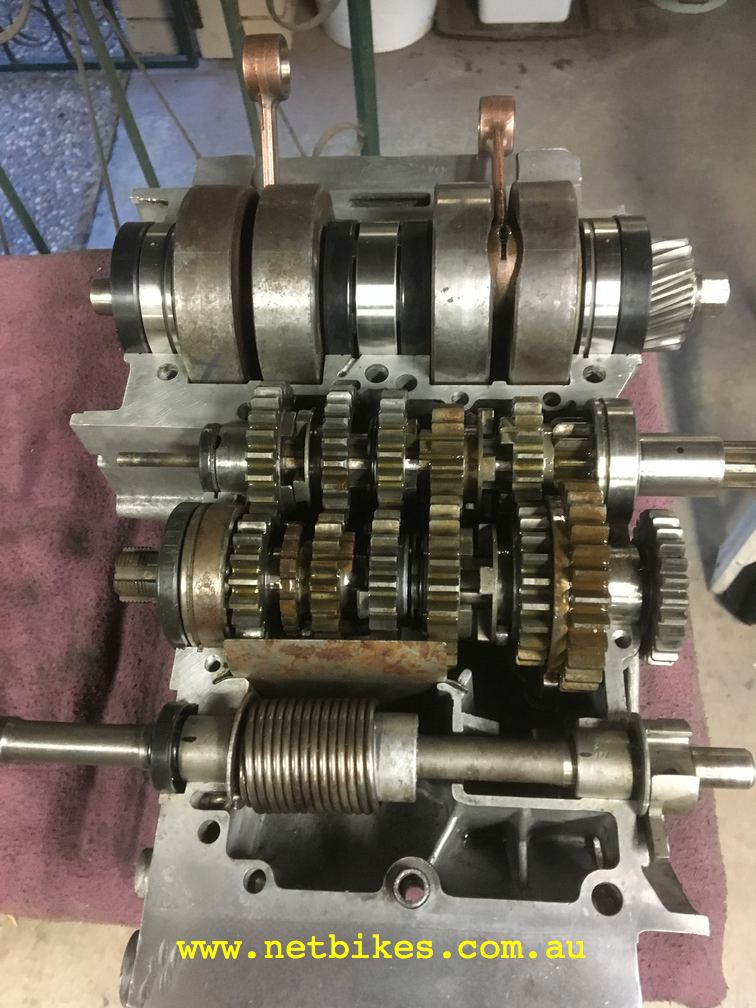 Bottom end parts loaded ready for close up. Crank has all new parts including rods, big ends, pins, main bearings and seals.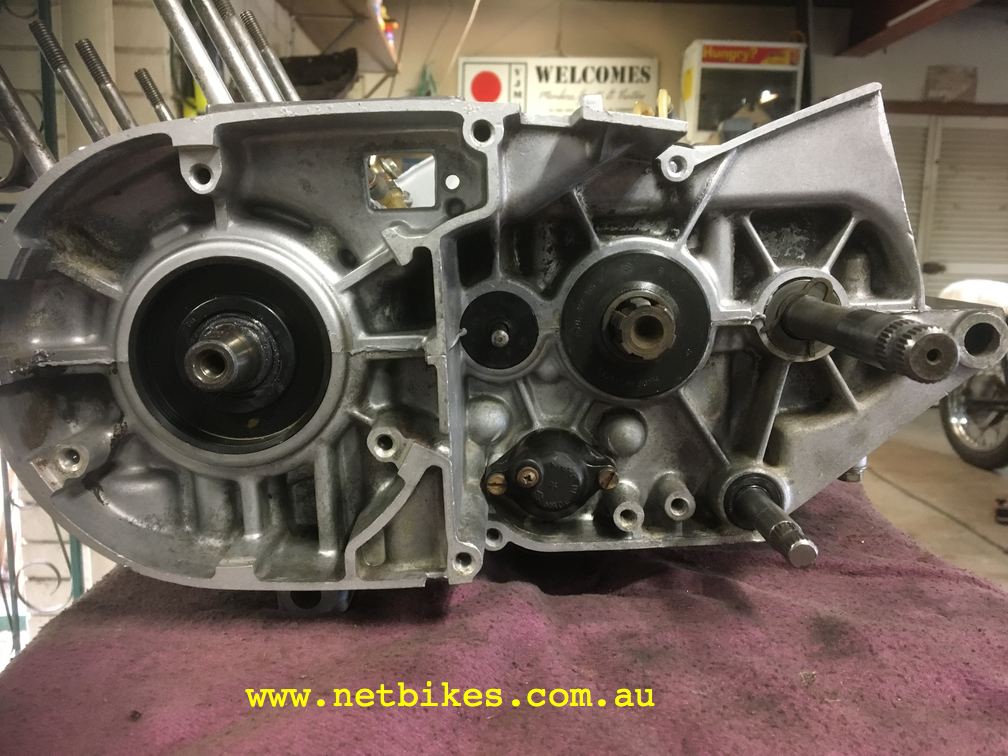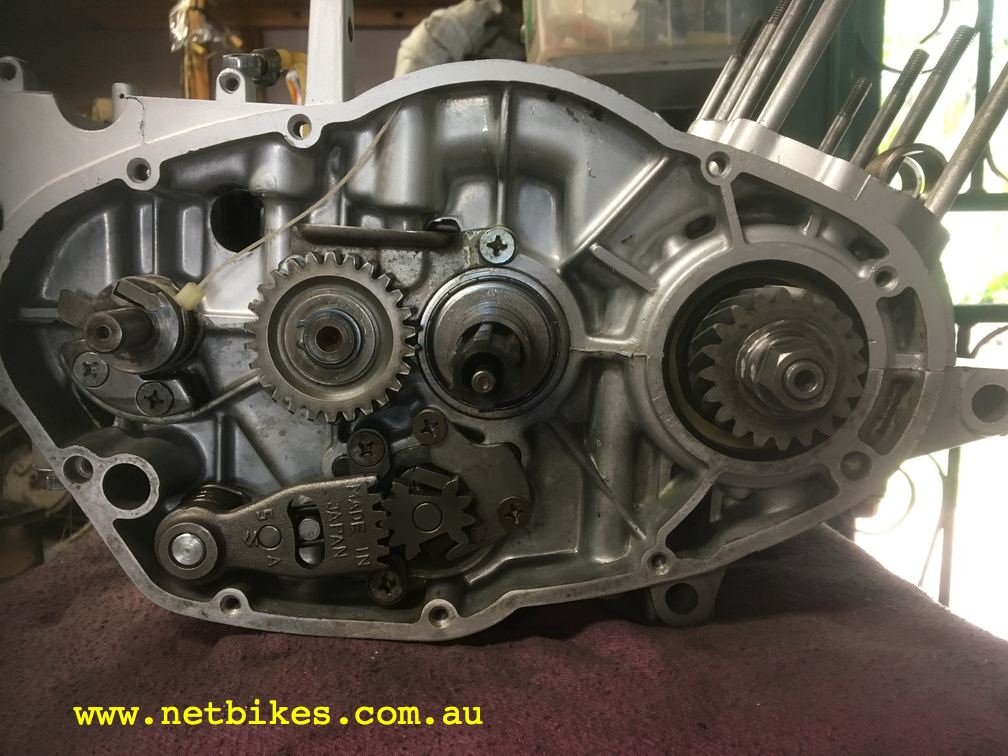 Bottom end now complete and bolted up.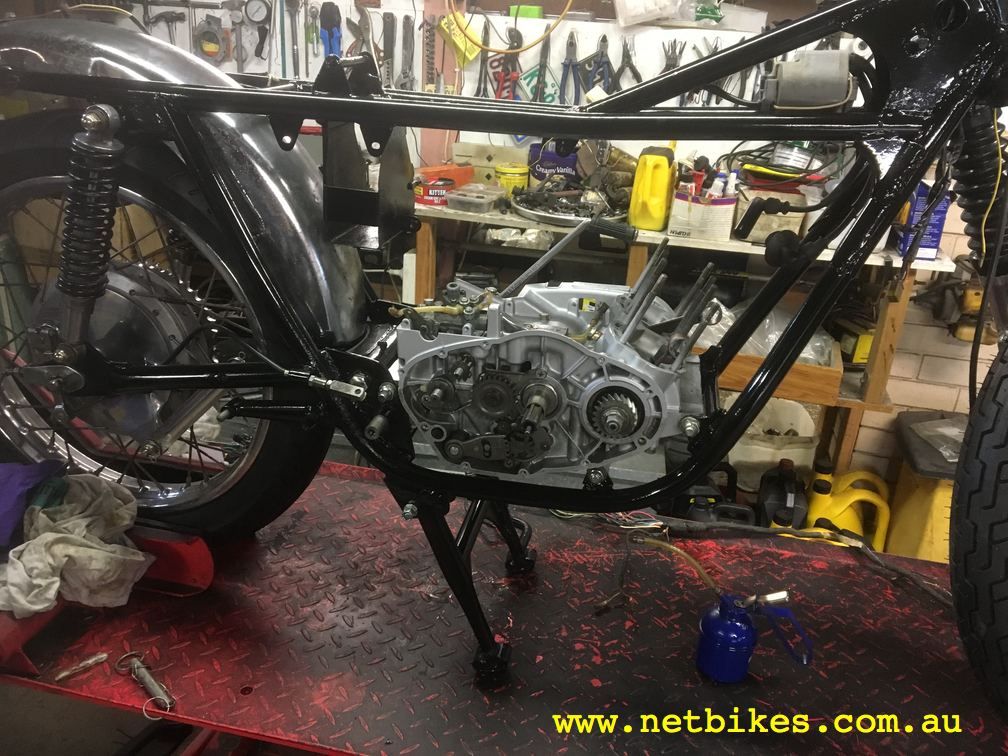 And we're are in frame. Need to get barrels bored for new pistons before I continue.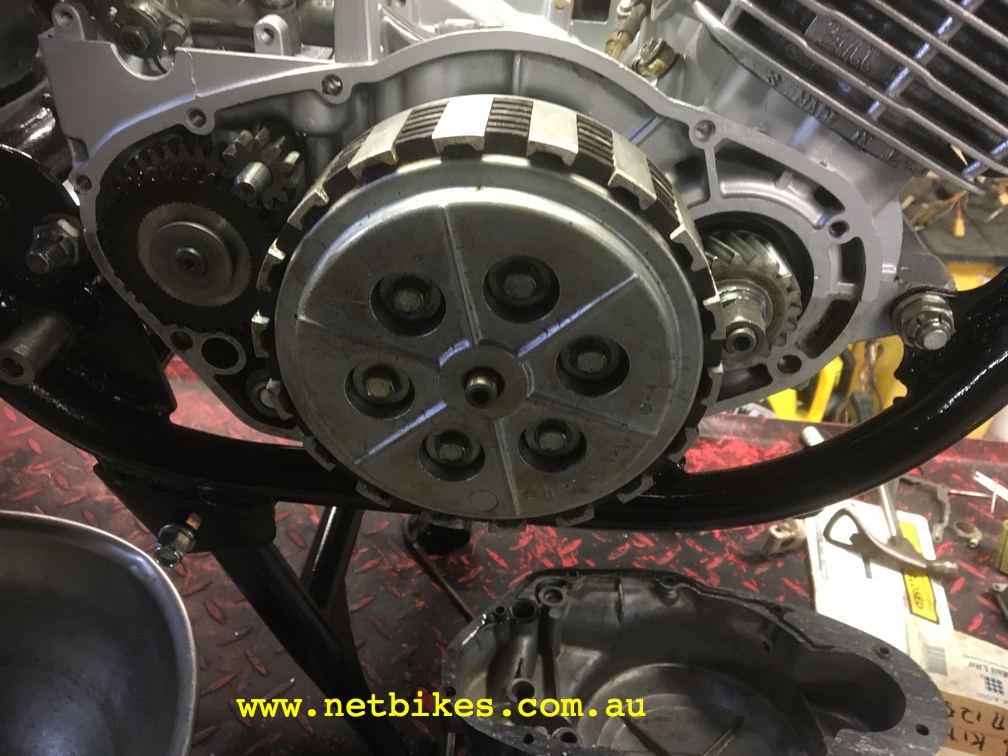 All the clutch side mechanicals now re fitted.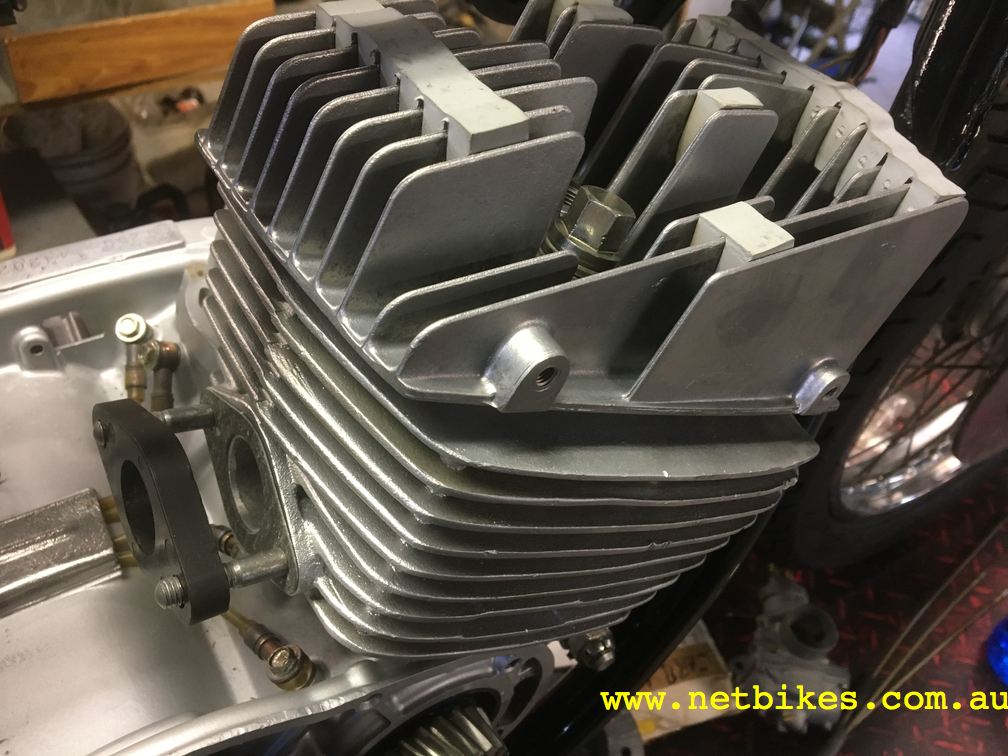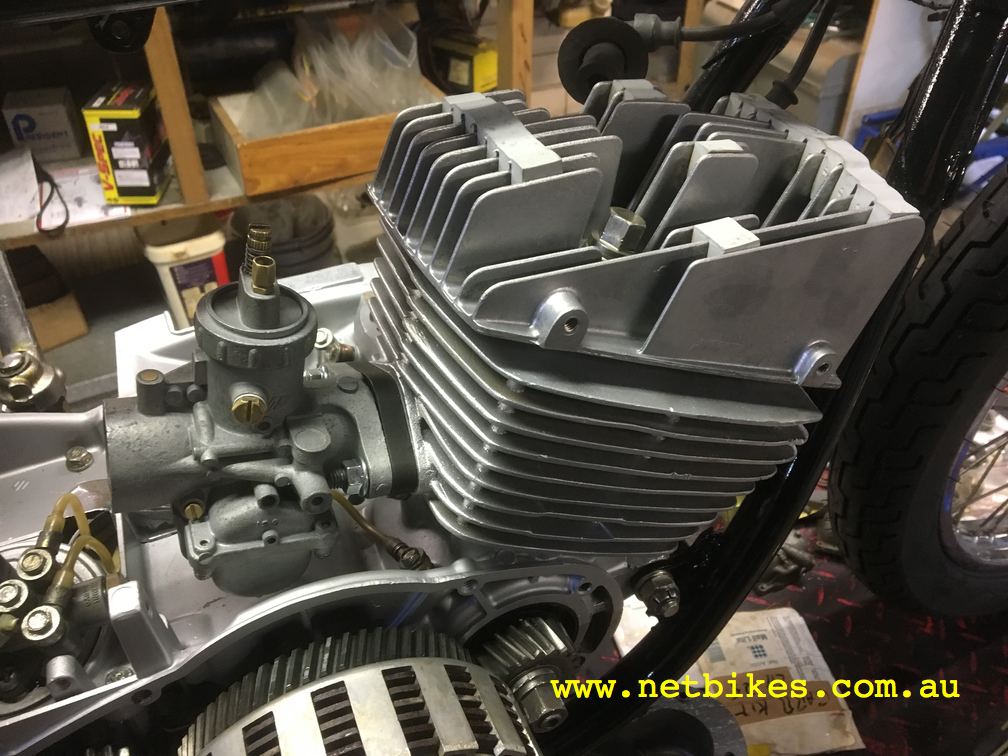 right head fitted, internal has new 0.5 piston, rings, piston pin and clips, base and head gaskets.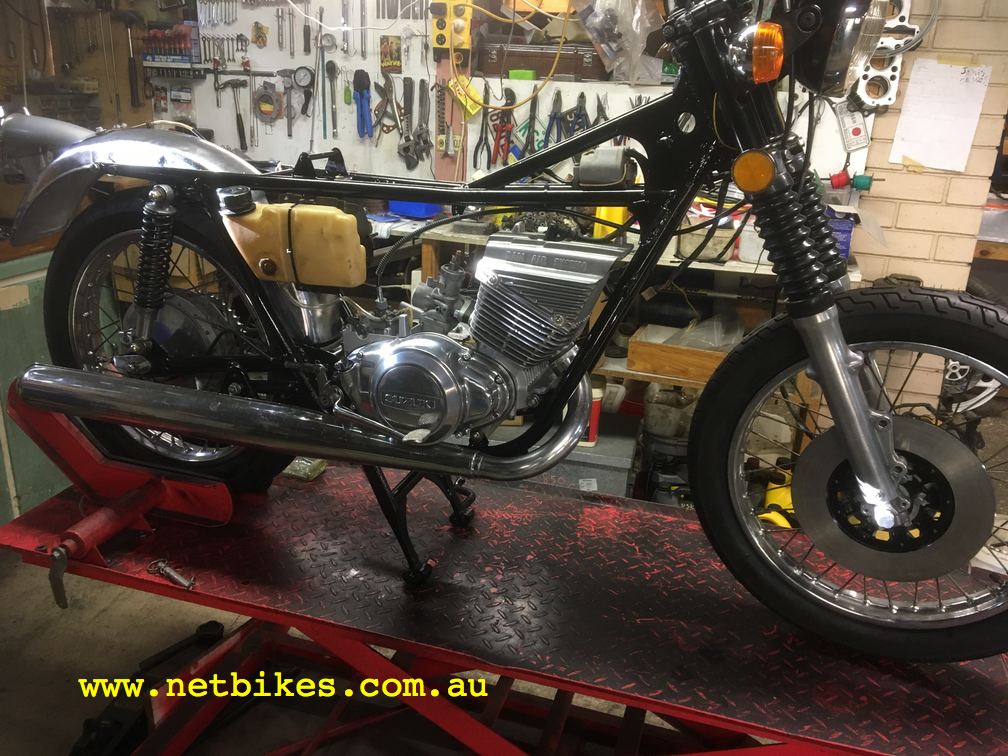 Right side very close to completion now.
July 17 2018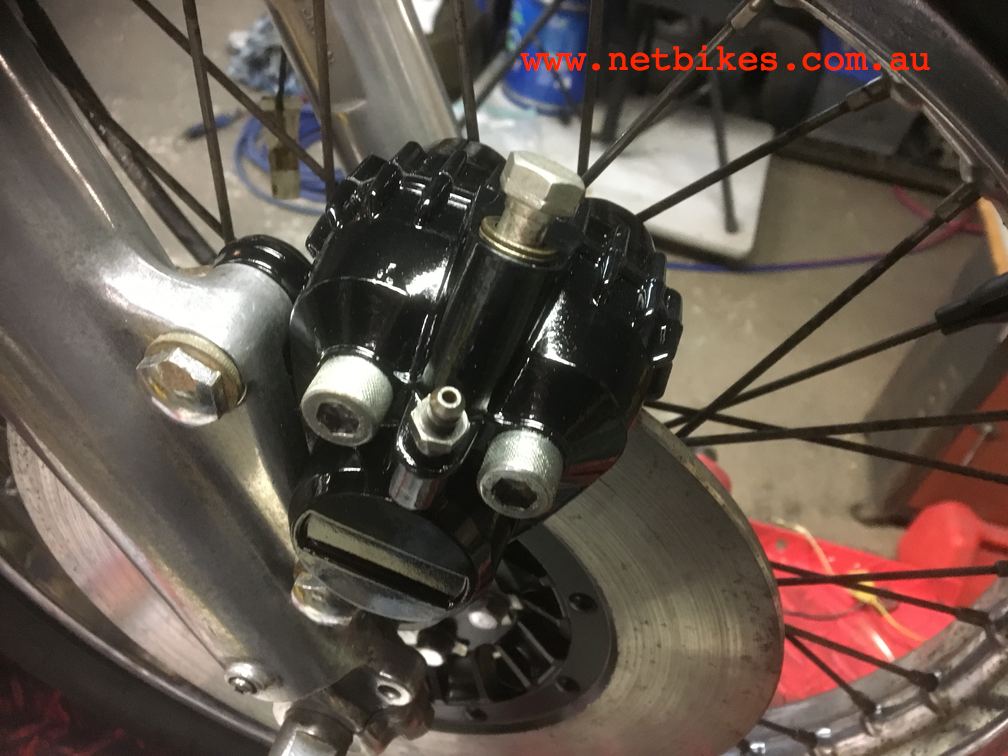 Todays small effort, fit up renewed calliper, it has new piston, seal and pads. Outer has been bead blasted and calliper paint applied. Will use a single braided line from master to finish.
August 3 2018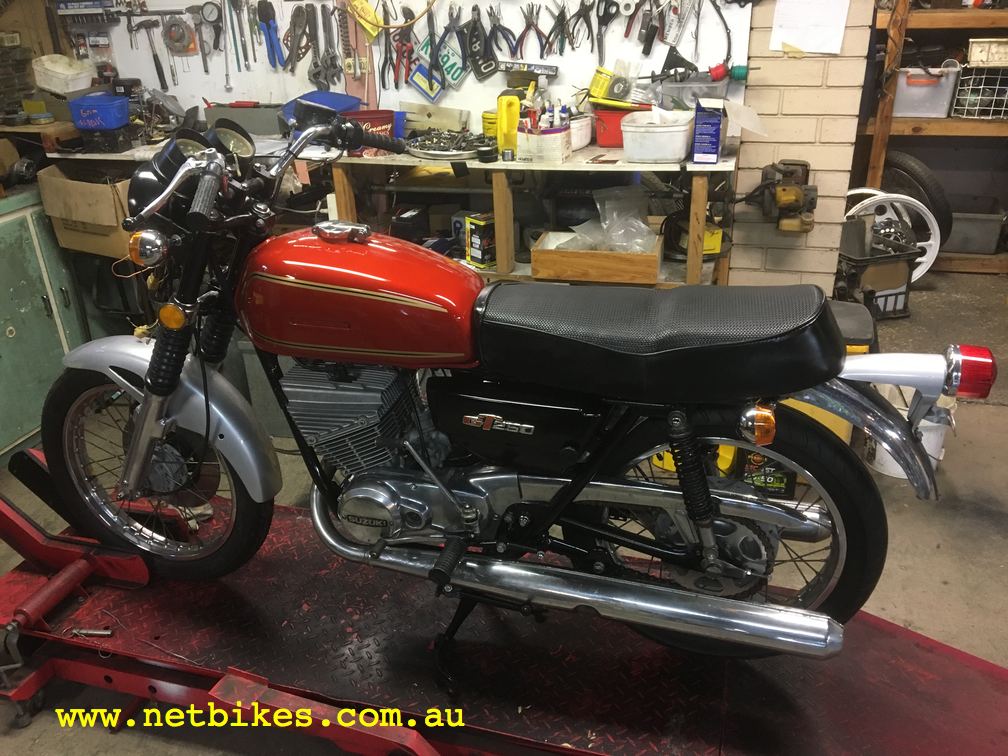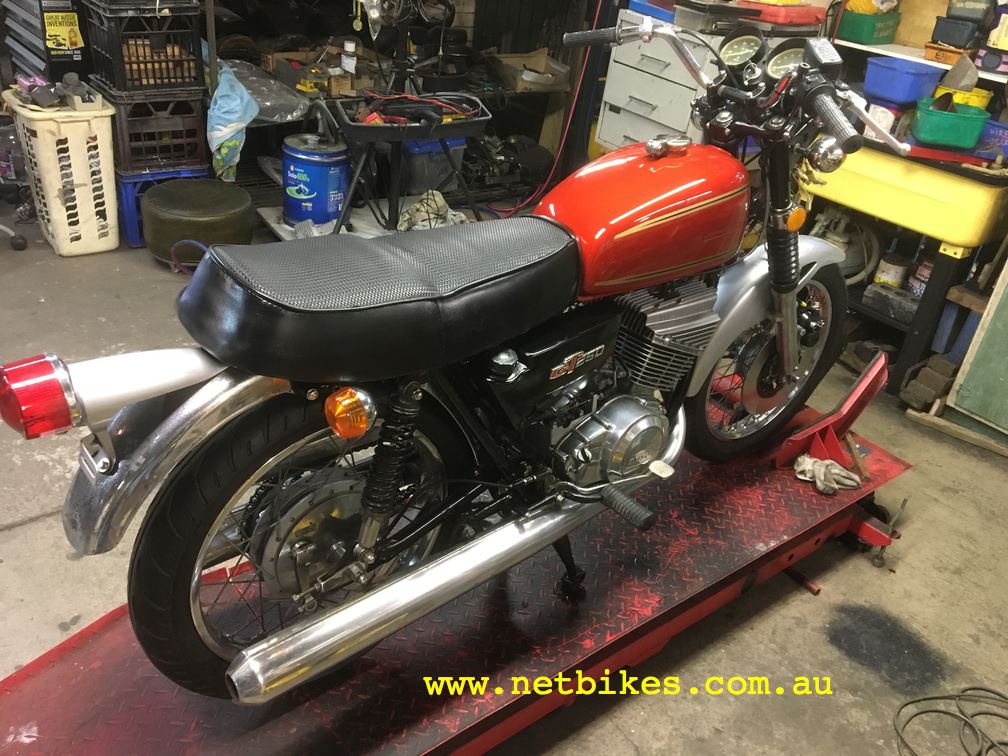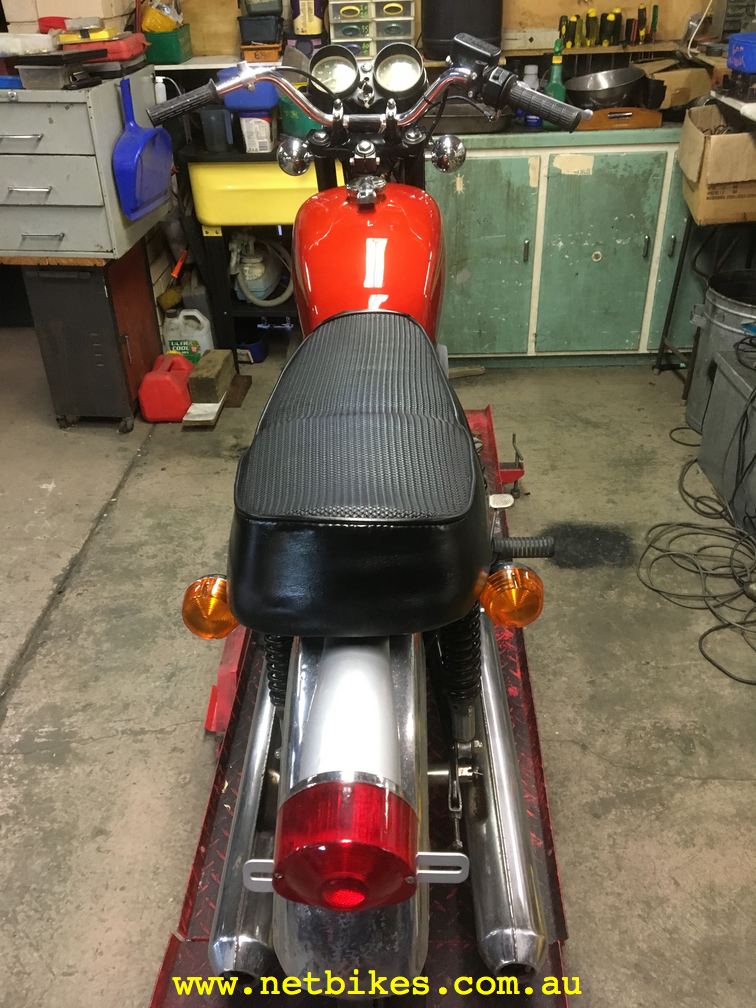 Well I am on the home run now, about90% finished, I still need to final the electrics. Will also source a decal for the rear of the seat, I bought one for another bike a few months ago but the seller seems to have vanished now.
I am also waiting for the left switch block to arrive from the UK too. Anyway not too long now before the streets see more smoke :)
Thursday September 13 2018.
All finished and for sale.(SOLD), call me on 0422819200. Located Mt.Gravatt East QLD 4122.
Summary: many new parts were used in this build.
Full crank rebuild, rods, bearings and seals
Full top end build, pistons, pins, small ends, gaskets, rebore to 0.50.
NOS fuel tank, headlight bucket, chain and sprockets, indicators except one (one of the new ones broke), wheel bearings, neck bearings, fork seals, brake calliper piston and seals, Hel braided brake line, carbs have new main jets, new air filter, new air filter rubber boot, new fork gators, new tail light lens, new rear brake linings, new left side switch block.
All alloy was vapour blasted, lots of cycle threads re zinc plated, new tyres and tubes. All electrics were gone over, lots new plug ends etc and everything works perfectly, has new points and condensers.
Non GT250 parts are front guard, GS250, rear tail lamp is T200, and headlight brackets from a TX500 Yamaha. I have better rear shocks arriving next week.
Starts, runs and rides beautifully