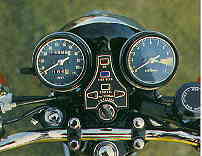 The 398cc CBX400F put out a claimed 48bhp @ 11,000rpm. It featured oil cooler, enclosed front disc, ComStar sports styled wheels, single shock rear suspension and a four into one exhaust.

But it's the taut handling, wire wheeled , twin shock CB400F1's and F2's that are regarded as the true classic's here. roughish examples can still be found for around £500, while good examples seem to be fecthing £1500 to £2000 these days.

They suffer the usual problems of rotted mudguards, pitted forks, corroded engine cases, worn out shocks and worn cams (which run directly in the cylinder head). That said, though, the 400-4 usually finds itself in cherished hands, and while card for examples are still availiable, ads for them seem to be getting rarer and rarer.

Keeping them clean and regularly changing the oil are crucial in maintaining the 400-4 in good condition. And it's worth too; every motorcyclist who cares for their bike experiences that unique sense of pride of ownership.